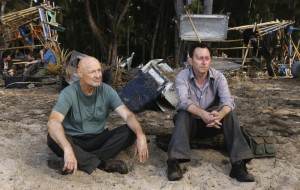 I know, I know, this bit of news surfaced well over a month ago. However, I think reporting on this falls into the "better late than never" category.
LOST is a show known for its large ensemble cast, all of whom are top-notch actors. However, it's a truth universally acknowledged that Terry O'Quinn and Michael Emerson form the top tier of that cast; they both have one Best Supporting Actor Emmy each. We also know that both actors play very well off each other. Some of Ben's best lines are directed at Locke, and some of Locke's best lines are directed at Ben. The two are so connected that even after Ben strangled Locke, "Locke" (the Man in Black) came back and turned the tables on him, manipulating him into committing one really important murder.
But with the end of LOST, will we ever see those two fantastic actors share the screen together?
The answer isn't quite a yes; it's more of a strong maybe. But all television fans know that a strong maybe is much better than a no, especially when it comes to television series as epic as the one that O'Quinn is shopping around to TNT.
TV Guide has reported that O'Quinn has written a "Bible" for a series that would reunite him and Emerson, and possibly even LOST creator J.J. Abrams. That project, still untitled, will center on O'Quinn and Emerson "as suburban hit men juggling family issues." Does that not sound like perfect TNT fodder? And does that not sound even more awesome with those LOST names attached? I'd watch it, no doubt about it.
"I really hope this works out because Michael would be in his prime in this. We'd play kind of awkward partners," O'Quinn divulged. This is pretty much the antithesis of their LOST characters, in that neither Ben or Locke are exactly awkward. This would make the series even more awesome to see yet another side of our beloved Ben and Locke.
"It's very sweet of him," says Michael. "I'm all in favor of it. Any reason to work with Terry again."
We're all in favor of it, too. And, if you're reading this, Terry (we can flatter ourselves, can't we?), don't stop if TNT says no. Try USA. Try TBS. Try FX. Try anywhere and everywhere, because you know that the LOST crowd will follow you anywhere, even if it is down a road littered with awkward hitmen.