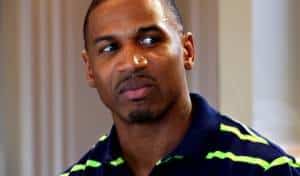 It's Monday, which means it's time for your weekly dosage of the madness that is VH1's Love & Hip Hop: Atlanta. Usually TVO's esteemed Shilo Adams covers all things VH1 "Wives" related, but the ratchetness of Love & Hip Hop: Atlanta was just too much for him this time around. In fact, Mr. Adams ran screaming to ABC Family and will remain there until LHH:ATL leaves the airwaves. Until then, he sends his regards.
With three episodes left before the finale, the drama in the "A" is just ramping up with no signs of slowing down. Stevie J is determined to win back Mimi through therapy, despite the scorned woman's deep dedication to her 'I'm Through With Stevie J!' tour. Scrappy and Erica are through. For now. Rasheeda and her husband Kirk have hit a snag both professionally and in their marriage. Finally, K. Michelle and Karlie have made it clear to each other that it might be best if they weren't in the same vicinity of each other.
So what does tonight hold? Well this 8 minute clip showcases K. Michelle giving Mimi a gift in the form of a song for her troubles. The song is catchy, but… Yea. Karlie meets with her manager, who allegedly doesn't have time for her. And finally, we have another Stevie J and Joseline verbal smackdown where Joseline turns the tables on her master for once. Take a look:
Two things about this clip: While I find it hard to believe anything coming out of Karlie's mouth at this point, I do find it odd that a) her manager had to fly to meet her and b) he's upset about her dating Benzino. I understand the point that Benzino comes with enough baggage to make even a Real Housewife say, "Damn!", but at least he's doing something for Karlie's career. Plus, dude talks to Karlie just as rough as Stevie J does to Joseline, but not as smoothly the Jedi Master does. Speaking of which…
Stevie J looked as if he almost lost that battle of wits with Joseline, but he bounced back quick enough to save face. But Joseline knows that Stevie is far from wanting to end the pleasure portion of their "business" relationship, and with that knowledge under her belt, she has Stevie right where she wants him. Le sigh… Talk about a guilty pleasure.
So what do you guys think about this clip of Love & HIp Hop: Atlanta?
Photo Credit: Hip Hop Wired