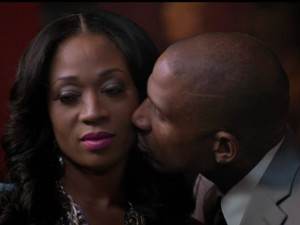 With Basketball Wives: LA earning a second season and the debut of Mob Wives Chicago impending, it was only a matter of time before VH1 spun off their other successful "wives" reality show Love and Hip Hop. After being confirmed in February, it looks like the debut of Love and Hip Hop Atlanta is upon is, so prepare for your summer to get a little messy.
Love and Hip Hop Atlanta brings together a cross-section of figures in the Atlanta r&b/hip hop music scene, from producers (Stevie J) to rappers (up-and-comer Joseline, Rasheeda, Lil Scrappy) to singers (K Michelle, Karlie Redd) and all the girlfriends, managers, and mamas caught up in the madness. The just-released promo, the first actual footage we've seen of the show, is slathered in drama, pretty much looking like a trailer for a low budget film. You have a pregnancy (maybe?), marriages falling apart, and cheating accusations, all the while the artists try to live their dream and make a name for themselves in the music world.
There'll be plenty of foolishness, though, if you're looking forward to that type of interpersonal drama. The original Love and Hip Hop, while never without a screaming match or two, embraced the trashy side of its identity in its second season, so I don't expect Love and Hip Hop Atlanta to suddenly clean the franchise's act up. The closer it gets to the premiere date, the more fighting I think we'll be exposed to. The question is, will Love and Hip Hop Atlanta be more like Basketball Wives and feature bullying of cast members or Mob Wives where everything felt a little more fair?
Love and Hip Hop Atlanta debuts Monday, June 18th at 8:00 on VH1, leading into an all new episode of Single Ladies.
Will you be watching?