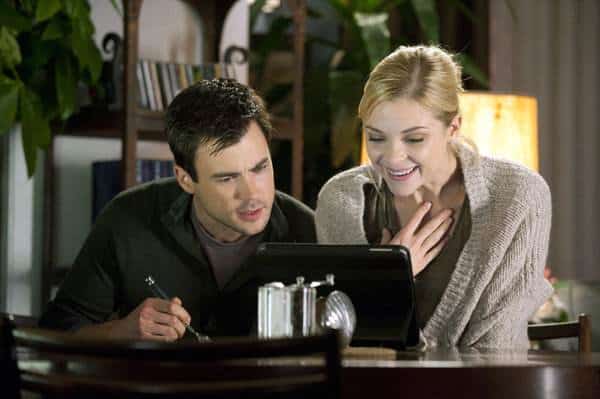 When I first heard that Love Bites had met its not-unexpected-yet-disappointing demise, I was of two minds. I was initially a little bummed because, despite its issues, the show has been pretty decent summer entertainment and a refreshing change of pace from the typical scripted show that we encounter nowadays. But once I came to terms with its cancellation, I had to wonder just how the last episode would tie things up (if at all), as the show's order was cut after a few episodes had aired this summer and well, how does one end an anthology series anyway?
The best move that Love Bites made was not immediately betrothing Annie to Matt in what could have been a contrived, schmaltzy move to a promising storyline. It's obvious that the two characters have chemistry together, but it would have been a little too much to have them go from having two quick conversations to being in a relationship and the little wink Love Bites gave us at the end was more than enough payoff. I think their connection was more about making Matt see that Amanda wasn't the one for him, a sort of catalyst to the type of awakening that isn't as typical a show like this, but there was definitely something there and it's a shame that we didn't get to explore that through more episodes of the show.
Not only did the story have potential to be something rather endearing, it turned out to be a nifty storytelling tool, as Matt was introduced in the beginning of the series, had a cameo in a short segment sometime in the middle, and the Matt/Annie story reached a "conclusion" right at the end. Also helping to bookend things was the fact that we got to see two storylines from earlier in the season pop up once again, which helped make the finale that much more satisfying. It could have worked with two vignettes of "new people", mostly if the theme and emotional payoff at the end was strong enough, but this was the first episode in the past few that had all three scenes relating to the main characters and it was fitting to send things off with a final look at the lives of Annie, Judd, and Colleen.
We may not have gotten season upon season of flashy guest stars, delightfully intertwined storytelling, and touching narration, but I'm pretty satisfied with my decision to watch Love Bites this summer. It may have had its issues, but when it was on the money, it was a joyful, breezy look at dating, relationships, and sex in a modern world, a uniquely romantic fusion of different vantage points on a particular theme that really got you thinking. There's nothing quite like Love Bites on television right now and I'm afraid that it'll be a long time before we get to see the networks try something like it again, but for eight episodes, we all got to relive the butterflies and that's more than enough for me.
Thoughts, Quotes, & Observations:
"I have really dumb boobs."
"You probably have bed bugs. Yeah, they're very in right now."
"I don't want to convert them to Christianity. I just want to kill them."
"I have a haircut next week and I need to know how it turns out."
"Don't eat too many of those. I may have to lift you later."
Am I alone in that I'd totally watch a Wayne Michelle spinoff? Quirky in a really good way, that Wayne Michelle.
The shirts Jodie and Charlie wore with the hearts? A little obvious, but cute nonetheless.
Matt's girlfriend was named Amanda. Becki Newton's character on Ugly Betty was named Amanda. Coincidence? Discuss.
Videotaped public proposals: romantic and sentimental or cheesy and manipulative? Discuss.
Who knew frozen strawberries could bring two people together?
Overall, what did you think of Love Bites? For those of you who stuck around the entire eight episodes, did the finale give you enough closure on the main characters? Was there a story this season that you wanted to see referenced tonight?