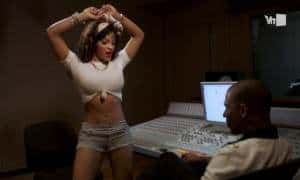 Honestly, if you've seen one VH1 reality supertrailer, you've more or less seen them all. There may be slight differences in context, but for the most part, it's the same type of holleratin', glass throwing antics from every flavor of wife you can imagine. Which is why the Love and Hip Hop Atlanta supertrailer is such a depature.
Don't get me wrong, there's still all types of messy behavior present and accounted for, from a music producer possibly being unfaithful to baby daddy drama out the ears, but the Love and Hip Hop Atlanta supertrailer is a little different than your typical preview. Extremely polished and featuring narration from executive producer Mona Scott-Young, this is something straight out of a late night BET movie in terms of tone and execution. The heavier focus on career may be a pleasant change from the original Love and Hip Hop's brand of tomfoolery, but you have to wonder if it's a bait-and-switch move to negate criticism for the time being.
Original flavor Love and Hip Hop may have been a little over-the-top at first, but it had moments of really getting behind the curtain into the lives of this subculture of women. Once season two got underway, though, it became The Hip Hop Bad Girls Club thanks to key additions and phase outs in the cast, throwing out any pretense of being about anything other than drama. Despite the trailer looking to be a departure, particularly in terms of looking extremely scripted, Love and Hip Hop Atlanta could be heading down the same path, but as with all trashy reality TV, we'll have to wait and see.
Love and Hip Hop Atlanta premieres Monday, June 18th at 8:00 on VH1. You can check out an additional promo for the show here.
What do you think about the Love and Hip Hop Atlanta supertrailer? Is it too polished and scripted looking or is the change of pace appreciated? Will you be watching the show when it premieres?