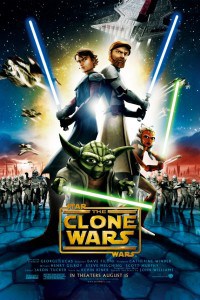 With an eye on returning the franchise to its big screen roots, Lucasfilm has cancelled Star Wars: The Clone Wars as well as the Robot Chicken produced Star Wars: Detours projects.  With the big screen efforts taking place in the franchises 'future', it would make sense that the now Disney owned Lucasfilm would want to purge the brand of anything connected to the Prequels.  Especially since the use of the word "Prequel" in the same sentence as "Star Wars" always makes somebody throw up in their mouth a little, and who needs that when you're injecting 'new blood' into one of the most durable franchises out there.
The news follows the announcement that Lucasfilm is also cancelling the project to convert the original six films to 3D for theatrical re-release.
Lucasfilm announced that there will be further "Clone Wars" materials that will be served up as "Bonus Materials" – with no explanation as to what they mean by that.  It wouldn't be a huge reach to say DVD/Blu Ray extras for future Star Wars releases. As for Star Wars: Detours, that will still get a proper release but that release is on hold for right now.Lucasfilm paring down these ancillary projects might actually have a positive impact on the brand, particularly when it comes to Box Office performance.  Star Wars fans will be starved for new content by the time JJ Abram's Star Wars VII hits the big screen.  This news may not bode well for Star Wars fans hoping that the long-in-development live action series would finally get lift-off.  That series was also rumored to take place in the era prior to A New Hope, and if Lucasfilm wants fans minds off that time and place then the live action series is most definitely dead.  For now.