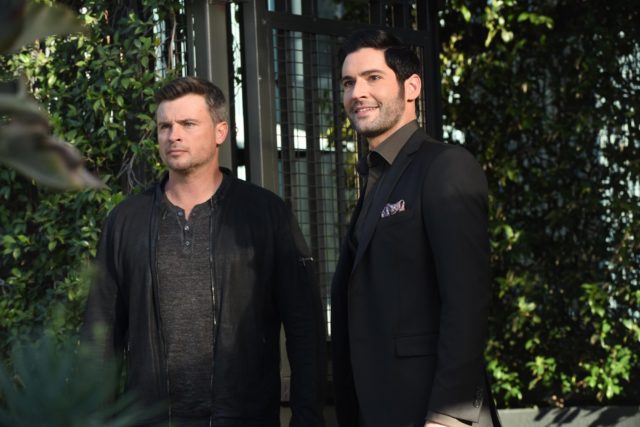 The Devil unleashes his genius plan to help Cain while Charlotte begins therapy on tonight's episode of Lucifer. Will the world's first murderer finally be free of his eternal curse? I have a feeling that all that effort will be for naught.
When Lucifer suggested that he go down to Hell to retrieve Abel's soul and put the latter in a just-deceased body, I was all "good luck with that!". After the Devil swooped downstairs and did the deed, I was like: "That was fast." Though imagine my surprise when Abel returned to Earth as a woman named Bree (guest star Lauren Lapkus) and not the senior man. Then again, shocking and mind-blowing twists is what makes the show great, so I wouldn't put this past them.
It's also lovely to see Detective Decker work with Detective Espinoza for the majority of this week's case. I liked the brief banter that occurred when they went to question the conspiracy theorist. I much prefer my Deckerstar, of course, but beggars can't be choosers. The hint of jealousy mixed with annoyance displayed by Detective Decker made me smile. While it's true that she trained him to be the most excellent partner, she's ever had, but I think it's more than that. Whether she is willing to admit to it is up to her. Well, technically it's up to the writers, but it's sort of up to her.
Back to the case, turns out that Bree is the intended target after all. Alexa, the Hollywood producer, has been using her film studio to launder money for the Bolivian drug cartel. The filmmaker has also been taking bribes from said cartel to which Bree did not approve of. Alexa purposefully rescheduled her Pilates class for the afternoon so she could put in the bomb in the filing cabinet.
Speaking of the bomb, I held my breath while Detective Decker put her life on the line to save Bree, herself, and Lucifer from certain death. Pierce/Cain offered to guide the detective through diffusing the bomb so Abel/Bree's life can be saved. The ending of the bomb scene was anticlimactic as the explosive went off with a poof rather than a boom. I was hoping for an explosion like the one in an episode of Bones and every action movie there is, but I digress.
In the end, Lucifer breaks his deal with Cain, saying that he can't risk Detective Decker's life anymore. It's interesting to see the Devil go back on his word, but when it comes to the detective, anything is possible. Bree/Abel also ends up dead after being run over by a car, so he's back where he belongs.
Final Thoughts:
Kudos to Charlotte for finally relenting the control to win at everything and to get the help she needs. I hope that someday, she will complete her journey to redemption.
Major kudos to Amenadiel as well. He let Maze beat him up for what happened with the whole secret relationship thing with Dr. Martin. I understand that the demoness is not happy about the relationship, but I agree with Amenadiel. She dumped him so there should be no hard feelings between them unless, as Lucifer put it, she's still hot for angel.
I rolled my eyes when Lucifer messed up in putting Abel's soul in a human body. Seems to me that he has not done this before.
Photo via FOX
Lucifer Season 3 Episode 16 Review: "Infernal Guinea Pig"
Summary
A murder investigation reveals the dark side of Hollywood as Chloe puts her life on the line to protect an innocent victim. Lucifer comes up with a scheme to help Cain die, but when Amenadiel and Maze get involved, things don't go as planned on tonight's episode of Lucifer.