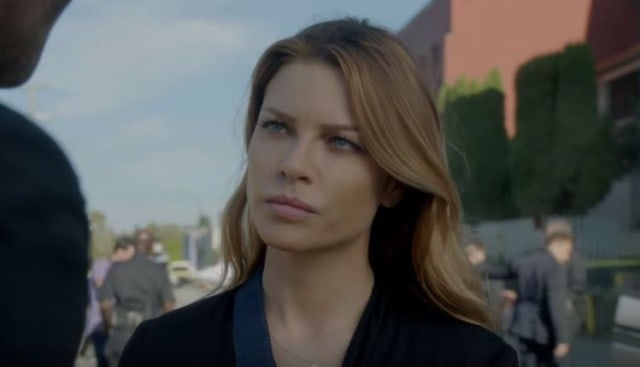 It was revealed in Lucifer's pilot episode last Monday that Detective Chloe Dancer (Lauren German) not only had a famous actress as a mother but was also well-known herself for a nude scene she did in a terribly cheesy, R-rated comedy. However, we only got a taste of how fame has affected her life as a cop in that first episode; this week's Lucifer will explore that part of Chloe's life in a much more in-depth way, as shown in the video below.
In the sneak peek, German and costar Tom Ellis discuss tonight's all-new installment, titled "Lucifer, Stay. Good Devil," and how a good bit of it will center on Chloe dealing with the paparazzi, including one very stalker-ish photographer (played by Jeremy Davies), who is a suspect in a murder case. And while Chloe just tries to continue doing her job amidst all the attention, Lucifer takes advantage of his opportunity to interrogate Davies' character. He not only tries to discover if he truly is a killer but also attempts to figure out why Chloe is unaffected by his powers.
Additionally, FOX has also released another clip from the episode, which continues to show the fun type of banter we can expect from Chloe and Lucifer. She scolds him for smoking weed that was actually evidence.
"Our only evidence is currently in your lungs," she says to him.
"You really wanted to say 'up in smoke' then, didn't you?" he responds, smiling.
Lucifer airs Mondays at 9 p.m. on FOX. Check out the sneak peek videos below:
[Photo via FOX]