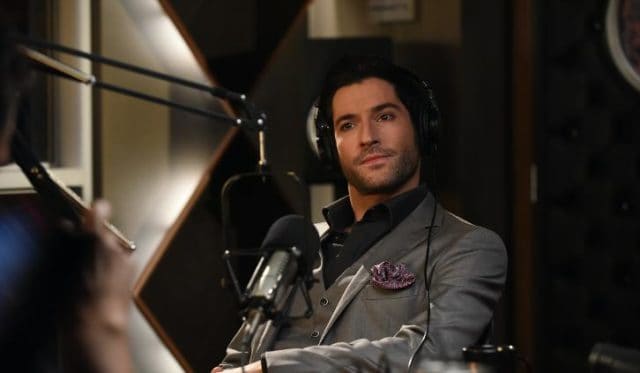 The long-awaited love-triangle between Pierce, Detective Decker, and Lucifer takes shape on tonight's episode of Lucifer. Deckerstar hunts down a copycat killer who takes the lives of cheating couples. Pierce/Cain has a change of heart about his desire to die. Amenadiel also comes face to face with Charlotte Richards.
My heart broke for Lucifer as I watched the episode. I mean, the whole insecurity about Pierce coming in between his and Detective Decker's partnership was annoying, but it was heartbreaking nonetheless. Of course, my Deckerstar will be just fine naturally. Even with the impending love triangle. I half-wanted him to stay for a cup of coffee so he and the detective could have a much-needed heart-to-heart. Guess beggars can't be choosers as the Devil left to return to LUX for a bachelorette party, leaving Detective Decker to call up Pierce/Cain to take up his offer of a dinner date. Cue the jealous Devil?
The case of the week is intriguing. Bodies of couples have been found at various locations with their chests bashed in and one out of the two victims had their wedding rings in their stomachs. It turns out that it's a copycat trying to imitate the Broken Hearts Killer, the person responsible for the same type of crimes back in 1958, where Pierce worked the case with his then partner, "Raids" White.
Later, the team decides to go undercover, to an extent, to lure the killer out. There's a local radio show that exposes cheating couples. Lucifer went as the ex-boyfriend while Pierce and Detective Decker posed as the cheating lovers. My heart went out to the Devil again while he listened to Detective Decker tell the radio host about Pierce's good qualities. Again, don't you worry about a thing, Luci-boy! Deckerstar will be just fine! It has to be or else the writers will have a virtual angry mob to deal with. Kudos to Lucifer for going to Detective Espinoza for advice. Though I don't think the former Lord of Hell will ever be okay with his detective be with someone, who isn't him. I mean, he'll learn to live with it, but he's not going to be okay with it.
Meanwhile, Amenadiel sees Charlotte at a coffee shop. He thought the former attorney is still Mama Morningstar. He even started telling her about the Flaming Sword and the whole being sent to another universe thing. Yeah, that was beyond awkward. I'm sad that the angel didn't get a chance to say goodbye to his Mom, but it worked out for the best I guess. That, and he finally told Charlotte about her missing time. I hope that she won't go catatonic like Dr. Martin did when the therapist found out the truth.
Back to the case, the killer turns out to be the man who bought the original Broken Hearts Killer's house (Andrew Leeds, who played criminal cyber-hacktivist Christopher Pelant from Bones.). He wanted to help the people that were being cheated on. I was sitting there thinking that if the masked figure is Pelant (his name wasn't given so let me have this one), it would be mind-blowing. I had a fleeting thought that it was Pastrami Boy (again, did not know his real name) who wasn't the actual killer. He only wanted to film the confrontation of the cheating couples and upload them unedited onto his website.
Final Thoughts:
Shame Maze had to move out of Detective Decker's house. Though she did technically bring this on herself. The brownies that Trixie brought to school turned out to be pot brownies. The teacher had to be rushed to the hospital. That and the little girl overheard her lashing out at Dan saying that she hates both her and her mother. Way to go, Mazikeen, you made Trixie cry. All the chocolate cake in the world is not going to undo what you did. Though I do wonder where the demoness is going to stay? Maybe she can crash at Lucifer's for the time being? That is until she can find a place of her own or somehow be allowed to move back into Detective Decker's place?
It was funny seeing the detective, Lucifer, and Pierce ride on Segways wearing plastic ponchos. Keep up the good work, show!
Sweat-drop Moment #1: Amenadiel ranting about God in the coffee shop. I feel sorry for the barista that had to listen to that.
Sweat-drop Moment #2: Pierce collects rocks from all the places he has been to. Either someone is a fan of Geology or the stones may be symbolic in some way.
Lucifer's comment about usually loving threesomes had me rolling my eyes. Yeah, but now Pierce is driving a wedge between you and the detective, it's not so fun anymore now is it, Luci-boy?
Love the tender moment where Lucifer held Detective Decker in his lap after finding her passed out from the gas that the killer put into Pierce's house.
Agree with Kay when she saw through Pierce's emotionless front. If he doesn't open himself up to people, no one will ever love him. I'm curious to find out how Detective Decker will be the key to finally make Pierce/Cain die and remove the curse once and for all?
Photo via FOX
Lucifer Season 3 Episode 18 Review: "The Last Heartbreak"
Summary
Deckerstar tracks down a copycat killer who takes the lives of cheating couples. Lucifer feels insecure about Cain spending time with Detective Decker while Amenadiel comes to terms with what happened to his Mother in this week's episode of Lucifer.