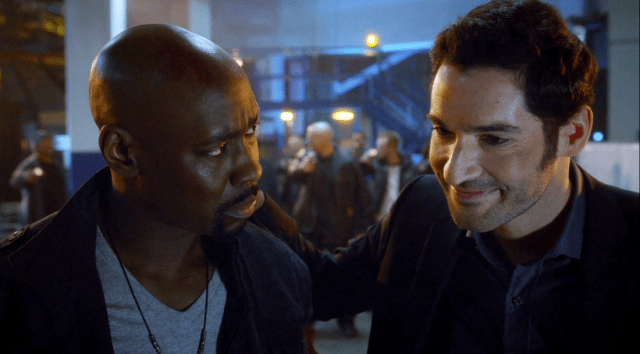 Never thought I'd see the day when Lucifer wants to go back to Hell. In this first season finale of Lucifer, the Devil punishes one last person before packing up his bags. Oh, and he's being framed for murder.
I also never thought that Amenadiel would team up with Lucifer again to bring down Malcolm. Then again, the archangel feels remorse for what he has done by bringing Malcolm back from Hell and let him kill all those people. Though I have to say that fight scene at the old brewery was epic.
The scene with Amenadiel, Lucifer and Dr. Martin in her office was excellent. When Amenadiel said to Lucifer that the latter always thinks with his penis, It was like something out of Two and a Half Men. I rolled my eyes watching the two brothers bicker like the brothers that they are.
I liked the transition between Earth and Hell after Malcolm shot Lucifer in the abdomen. Though it would be nice to see Hell clearly rather than in a bubble of blurriness. It was incredibly shocking to find out that the soul that escaped from Hell is none other than Lucifer, and I'm assuming Amenadiel's, mother. No wonder Lucifer felt afraid. Now I want to know who is his mother. I've read somewhere that it might be Lillith, which makes sense, but there's no telling with the writers.
The part where Maze healed Amenadiel with the feather from Lucifer's wings just confirmed that the demoness has feelings for the Archangel, but she doesn't understand why she has these feelings. It sounds like someone is becoming more humanized too.
In short, the first season finale was great to watch. The scene where Lucifer used the police car radio/megaphone and channeled his inner cop using an American accent was hilarious. I knew the second he said the word bazooka and rattled on about waiting to use it that something was off. That and the fact that Lucifer cares about Detective Decker quite a lot since he made a deal with his Father about being the son that he wanted him to be.
Good thing dear old Dad allowed Lucifer stay on Earth or else there wouldn't be a second season. It was also a bit of a shock to hear Lucifer refer to Detective Dan by his name rather than the usual Detective Douche after the latter turned himself in. First time for everything right?
Photo via FOX
Lucifer Season 1 Episode 13 Review: "Take Me Back to Hell"
Summary
Lucifer teams up with Amenadiel to take down Malcolm and works with Detective Decker to clear his name in this first season finale of Lucifer.