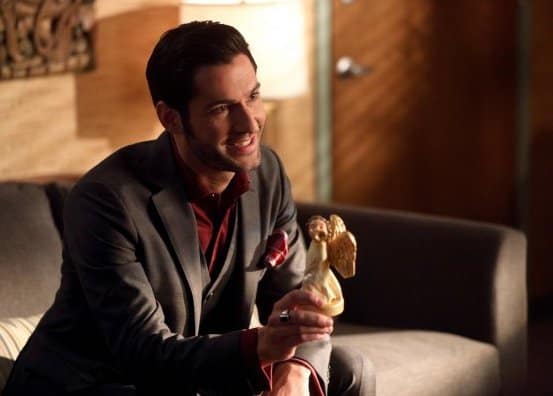 Okay, before I start singing this episode's praises, this Bonehead would like to say a few words. I loved the shout-out to the Bones franchise! It brought back some very fond memories of when I binge-watched the series. I all but clapped and cheered when Agent Booth and Dr. Brennan appeared on the screen during Lucifer's attempt to not sleep for a week.
The scene where a sleep-deprived and dishevelled Lucifer compared Detective Decker and himself to the FBI/Jeffersonian crime-fighting duo was intriguing. I can see some similarities, yes, but technically speaking, Lucifer is more like Agent Booth as he is the religious one and has died for the detective and went after the people that hurt her with immense rage. Detective Decker is more like Dr. Brennan since she doesn't believe in God and all that comes with it. All in all, it made this newly minted Bonehead very happy.
Onward to the review!
A mysterious guardian angel saves a woman's life in tonight's episode of Lucifer. The Devil also realizes something about Pierce/Cain that changes everything. Three weeks was definitely worth the wait.
The hour began with a woman sleeping in bed when the voices of two men arguing woke her up. She then called 911, and just as she was about to reach for the door handle, a masked man came out with a gun pointed at her. He didn't pull the trigger, however, when a shadowed figure with wings appeared, thus sparing her from the intruder's bullet. A young man by the name of Kevin Winstead, of the Winsteads of New York, Â is the unfortunate victim. He was a drug addict and a party animal. No surprise there.
I wasn't too interested in the case as the drama between Detective Decker and Lucifer. The latter tried yet again to tell the detective the truth, but she still doesn't believe him. I half-wanted to yell at the screen for him to show her his wings so we can stop with the whole "will he ever tell her everything so she can finally believe him" mess.
Speaking of Detective Decker, it was somewhat jaw-dropping, to an extent, that she would have a quickie in the evidence closet with Lt. Pierce. The Deckerstar shipper in me wants to see her in there with Lucifer, but with all that's been happening, it's not going to happen anytime soon. I did, however, find her attempt to hide the quickie from her partner at the crime scene amusing.
Back to the case, the person who killed Kevin turns out to be Jeremy Bell; the pretend husband of Kevin's former fiancee. He wanted to stop Kevin from destroying what he worked so hard to achieve. For a brief second, Lucifer's Devil eyes came back but then disappeared again. The logical explanation could be that the glow from the fireplace created an optical illusion. On the other hand, logic is not what makes this show so watchable. I mean, hiring actors to be your family members or friends? That's something that spies do to keep up appearances.
As the episode ended, Pierce/Cain broke Detective Decker's heart just as she was about to tell him that she loves him. I guess he somehow grew a conscience and stopped her from making a mistake. Lucifer, after figuring out that Maze orchestrated the Angel of San Bernardino, rushes off to see Detective Decker. As soon as he saw her sad state, he went straight to PIerce's house and went all Agent Booth on his arse.
Cain told Lucifer to go ahead and take his rage out on him because he deserves it after what he did to Detective Decker. It was then the Devil realized that the mark that God put on Cain all those eons ago has disappeared. I suppose that by admitting that he will not hurt anyone just to further his agenda is Cain's redemption. Does this mean that he can finally die? If that's the case, would Tom Welling return for the fourth season should the show be renewed?
Final Thoughts:
Can't believe that Lucifer binge-watched all twelve seasons of Bones in one week's time. Wonder if he ships Booth and Brennan? Also, did he recognize Ella and Detective Espinoza in their respective episodes on the show?
Lucifer is the one who is like Booth! He is the religious one given that he's the Devil and his father is God while Detective Decker is the atheist much like Bones.
I sweat-dropped a little when Lucifer channelled his inner Dr. Brennan and started describing bone injuries as she does. Another sweat-drop moment came up as I watched the scene where Charlotte dragged Detective Espinoza to a local bar to get drunk. She then suggested that they have their closet quickie that later took a slightly embarrassing turn. I'm guessing that he will never drink again after that.
I also feel sorry for Charlotte. She tried hard to change her ways, but after seeing Lucifer's wings, she thought that she has a free pass to Heaven. Amenadiel then told her that it's not how it works. Poor Charlotte. Looks like she is going to have a one-way ticket back to Hell after all.
I loved the way Lucifer growled at Pierce for hurting Detective Decker and breaking her heart. It shows that he genuinely cares about her and always will. Maybe they can be the new B&B (Booth and Brennan) once they get together.
Amenadiel's comment about the San Bernardino angel. Yeah, that one hit a little too close to home.
Point of Confusion: Where did Maze find those fake wings she used to rescue that family in San Bernardino? I don't think any costume stores have ones that are big enough.
Photo via FOX
Lucifer Season 3 Episode 20 Review: "The Angel of San Bernardino"
Summary
Deckerstar investigates a murder where a witness claims that a winged guardian angel saved her life. Pierce and Chloe's relationship takes an interesting turn as Lucifer discovers something that could change everything on tonight's episode of Lucifer.