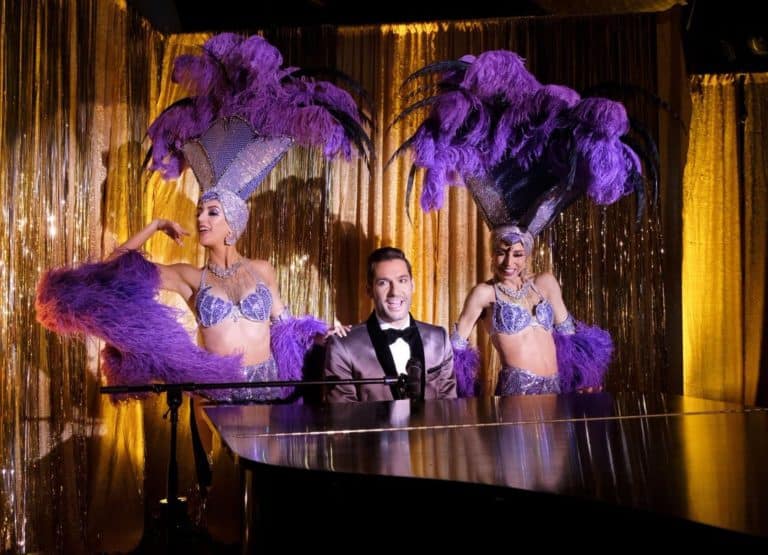 Birthdays only come but once a year. So what happens when your friend and partner go out of town on your special day? Go to his house and party like there's no tomorrow! On tonight's episode of Lucifer, our favorite Devil heads back to Sin City. Only this time, he's not tying the knot. Candy is missing, and Lucifer and Ella are on the case!
This whole episode reminds me of all the episodes of Arrow and all the CSIs where there are flashbacks involved. From the moment where Lucifer met Candy at the club where she sings to the heart-to-heart between them at Candy's apartment. It's all from Lucifer's point of view, of course, but the familiarity of it is there.
The hour also revealed a part of Ella Lopez's past. It's surprising to hear that she knows about casinos and their history. That and knowing how to count cards. Wonder who taught her all that? I also am shocked to learn that Ella hired the stripper. Sorry for jumping to conclusions, Lucifer!
Speaking of pasts, we also get a glimpse into Candy's history. The woman grew up in the club scene as her father owned a nightclub called Fletcher's. The first of many flashbacks show Candy singing onstage and Lucifer drinking away his sorrows. The former then draped herself over the fallen angel and deprived him of his wallet and ring. When he made his way backstage to commend her for her sneakiness, he sees her argue with a dirt-bag loan shark named Louie Paglinani.
Cut to Candy's apartment; she tells Lucifer, who has magically broken in, that she needs to come up with 300 grand to get her father's club out of debt. The Devil then proposed that he can help her dilemma if she would help him with his situation back home in Los Angeles. Hello, Mrs. Morningstar! Oh, the whole sob story thing was good, but it's not good enough to fool Lucifer. Nice try, Candy!
After Lucifer found his soon-to-be ex-wife, he made himself the target for Candy's killer to deal with. Then we know that the person responsible is none other than the bartender. He had a mountain of gambling debts and selling the club could help him pay off the money he owes. Wow. Just. Wow.
Final Thoughts:
I loved the Risky Business scene with Dr. Martin and Detective Decker at Lucifer's penthouse. It's nice to see them loosen up like this. Shame Lucifer did not see it.
The inscription in the Hamlet manuscript intrigues me. Did Lucifer somehow cross paths with William Shakespeare? Then again, he might as well have. The guy is as old as time itself.
Seeing Lucifer wearing a hot pink Snuggie? Priceless! Personally, I would've preferred a dark red rather than pink. No offense, Candy!
Why is it taking forever to annul a two-week marriage? Thought it would be faster given that Luci-boy over there could just call in a few favors.
Lucifer singing Luck Be a Lady at Candy's club? Be still my heart! It doesn't quite measure up to old Blue Eyes, but it's close enough. Tom could give Michael Bublé a run for his money. Sing-off, anyone? Oh, it appears that Detective Espinoza has a hidden talent as well! Sing more on the show, Kevin!
The final scene where Lucifer poured his heart out to Detective Decker at his penthouse hit me right in the feels. It's moments like this that makes shipping Deckerstar worth it. That and the present he gave her which is the bullet that she shot him with at the warehouse in season 1. The penetrating double entendre? Only Lucifer can pull that off.
Major kudos to Candy for telling Lucifer, again, to not screw things up with Detective Decker. I love it when everyone is on the Deckerstar bandwagon, don't you?
Photo via FOX
Lucifer Season 3 Episode 6 Review: "Vegas with Some Radish"
Summary
Lucifer and Ella head to Vegas to save Candy from certain death while Chloe celebrates her birthday without her partner by her side in tonight's episode of Lucifer.