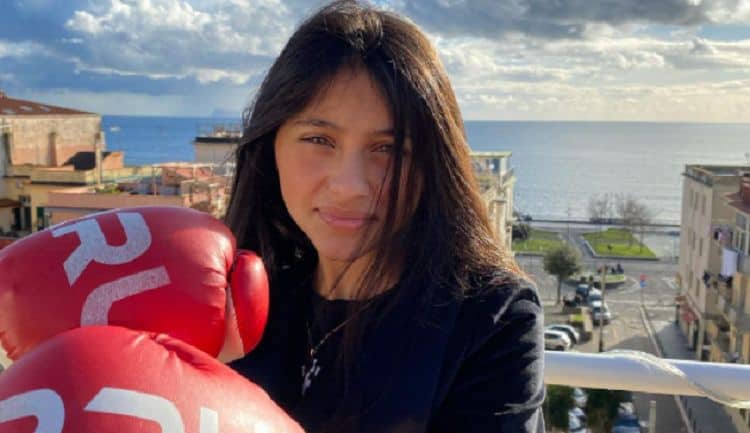 Not long ago, Ludovica Nasti was just a 'regular' kid. All of that changed, however, when she was cast in the HBO series My Brilliant Friend. The show quickly became an international success and essentially turned Ludovica into an international celebrity. Although her time on the show has come to an end, she's ready to show the world that she's here to stay. She's kept the momentum rolling with other acting opportunities and she also has some upcoming projects in the works. Being a young person in the entertainment industry isn't easy, but Ludovica is determined to build a long-lasting foundation for her career. Keep reading to learn 10 things you didn't know about Ludovica Nasti.
1. She's A Model
Acting is what has made Ludovica popular around the world, but it isn't the only thing she's done. Her natural ease in front of the camera has also allowed her to have a successful modeling career and she loves doing photoshoots. We weren't able to find any information on the specific brands and/or publications Ludovica has worked with.
2. She Is A Cancer Survivor
When Ludovica was just four years old, she was diagnosed with lymphoblastic leukemia and she had to undergo chemotherapy. When she was cast in My Brilliant Friend, she was asked to cut her hair for the role. This was a sensitive subject for Ludovica because she had lost her hair as a child due to the chemo treatments. Still, however, she decided to make the decision to cut her hair for the sake of the opportunity. Ludovica told World Today News, " From that disease I came out stronger, full of the will to live, and in this sense, making The Brilliant Friend marked my rebirth."
3. Family Is Important To Her
Ludovica comes from a very close-knit family, and it's clear that her loved ones are at the top of her priority list. Her family is very supportive of her career and her mother always accompanies her on set while filming. From what we can tell, Ludovica has one sibling.
4. She Loves Fashion
Ludovica loves being able to explore her creative side, and fashion is yet another way for her to do that. Even though she's young, she already has a great sense of style and she has a knack for putting great outfits together. It'll be interesting to see how her style evolves as she gets older.
5. She Can Relate To Lila
Although it's not always possible for actors to play characters they can relate to, it's always nice when they're able to find some commonalities. In an interview with Vogue Ludovica said, "Lila is strong and not ashamed of anything. She tells you things to your face. This I like a lot."
6. She Loves Soccer
Ludovica's work has taken up most of her time as of late, but she still likes to make sure she's making time to have fun. Soccer is her favorite sport and she enjoys it as both a fan and an athlete. She likes to get out and play a couple of times a week and it's a great way for her to stay active.
7. She Likes To Travel
Ludovica is barely a teenager, but she's already gotten to see more parts of the world than some people ever well. Thanks to her work as an actress, she has gotten the chance to travel far and wide. On top of visiting lots of different areas in her home country of Italy, she has also been to the United States.
8. It's Unclear If She's Had Acting Training
Since Ludovica is so young and still relatively new to the industry, there isn't a lot of information out there about her outside of things pertaining to My Brilliant Friend. That being said, it's unclear whether she has had any sort of formal acting training. It's also unclear if she had auditioned for other projects prior to My Brilliant Friend.
9. People Have Commended Her On Her Strength And Maturity
14-year-olds typically aren't complimented for their maturity, but Ludovica isn't like most people her age. When talking about Ludovica, Saveria Costanzo, director of My Brilliant Friend, referred to her as a "genius". He also added, "she's a kid but has a knowledge of life which is much bigger than mine".
10. She's A Musician
In addition to acting and modeling, Ludovica is also an up-and-coming musician (rapper and singer). In 2020, she released her debut single titled "Mamma non è niente". The video for the song has gotten more than 15,000 views on YouTube. There's no word on if she has a full-length project in the works.