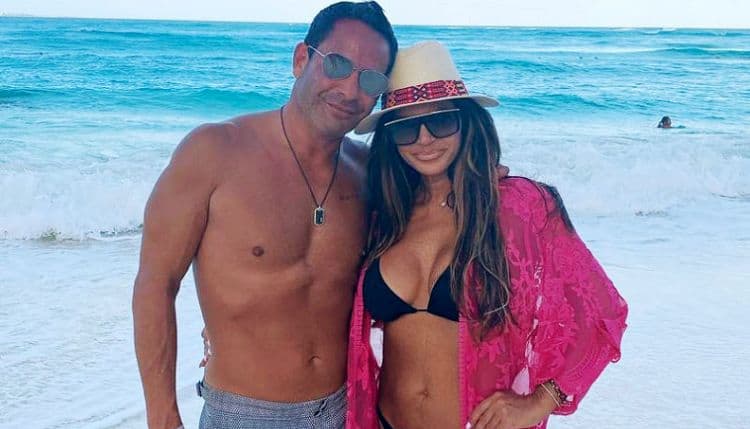 Luis Ruelas may not be used to living life in the spotlight, but all of that changed once he started dating The Real Housewives of New Jersey star, Teresa Guidice. The relationship came not long after Teresa ended her 20-year marriage to Joe, but many of her fans feel like her and Luis' relationship is a breath of fresh air. So far, things seem to be going well between the couple and they appear to have formed a genuine connection. Some people have already dubbed them #goals. Luis has already made his first appearance on RHONJ and viewers are hoping to see a lot more of him in the future. Keep reading to learn 10 things you didn't know about Luis Ruelas.
1. He Met Teresa At The Jersey Shore
You know what they say, the best relationships tend to start when you least expect them and that appears to be how things started off for Teresa and Louis. According to The List, Teresa and Luis met while they were both visiting the Jersey Shore. Teresa shared that she was out for a walk when the two crossed paths.
2. He's Originally From New York
Despite meeting Teresa in New Jersey and clearing having some ties to the state, it appears that he may not actually be from there. Based on Joe's LinkedIn profile, there's a good chance that he is originally from New York. He attended Tappan Zee High School from 1989 until 1992. The school is located in Orangeburg, NY.
3. He's Been Married Before
Just like Teresa, Luis was previously married and he also has children. Although things obviously didn't work out between him and his ex-wife, the two are still on good terms. According to Heavy, Louis' ex described him as a good person and said, "In general, we got married, we were very young and had babies and then it fell apart. As normal things happen. We're very good with each other, and that's basically it."
4. Some People Have Accused Him Of Being Obsessed With Sex
As of now, Luis hasn't done anything to indicate that his intentions are anything other than pure when it comes to Teresa. However, there are some people who have alleged that his past isn't so pretty. Some of his former partners have accused him of being a sex addict and claim that he would be rude if he was denied.
5. He's An Entrepreneur
Once news broke that Teresa and Luis were an item, one of the first things people wanted to know was what he did for work. After all, he needs to be bringing in some serious bucks in order to be able to maintain the lifestyle Teresa is used to. According to his LinkedIn profile, Luis is the co-founder of a marketing company called Digital Marketing Solutions.
6. He Likes To Travel
Based on his social media activity, Luis seems to be an adventurous person who's always looking to have a good time. What better way to go on an adventure than to travel? Luis enjoys visiting different places and he particularly enjoys taking his children along for the ride.
7. He Doesn't Appear To Have Any Connections To The Entertainment Industry
Anytime someone gets into a relationship with someone famous, there are always people who assume they're only in it for the clout. That really doesn't seem to be the case with Luis, though. Outside of his relationship with Teresa, Luis has never been involved in the entertainment industry.
8. He Plans On Being With Teresa Forever
Teresa and Luis' relationship may still be relatively new, but that doesn't mean they aren't serious. Luis' plan is to make a long-term commitment to Teresa. In an episode of RHONJ, Luis said, "I'm in for the long haul. My plan is to, you know, I want to be with her 'til her boobs sag to the floor."
9. He Likes To Stay Active
Keeping himself in good shape is something that Luis takes very seriously. He's an active person who enjoys hitting the gym and doing yoga to stay fit. Of course, now that he's going to be spending a lot of time on the beach with Teresa, he wants to take extra time to make sure he's looking his best.
10. He's All About Positivity
Sometimes it can be easy to let the tough moments in life bring you down, but Luis does his best not to stay down for long. Luis is a positive person and he loves sharing that energy with the people around him. This mindset is likely one of the things Teresa really likes about him.