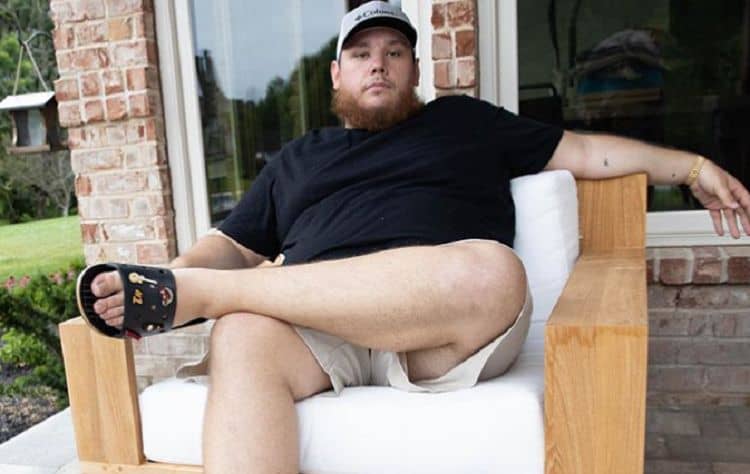 From the beginning of his career, it was clear that Luke Combs was a special kind of musician. The release of his debut album proved to be a huge moment for country music and the projects went on to be certified 3x platinum. Even though he has only been in the industry for a little more than six years, he has already managed to leave a lasting impression. His classic sound mixed with his contemporary style have made him a huge hit among young and old country music fans alike. Even if country music isn't normally your thing, you might still find yourself tapping your foot to some of Luke's music. Continue reading for 10 things you didn't know about Luke Combs.
1. He's Always Working To Improve
Luke has already accomplished a lot in such a short amount of time, but he doesn't have plans on stopping any time soon. While he's proud of what he's done, he also doesn't want to get complacent. He is always working towards becoming a better artist and a stronger song writer.
2. He's A Da Baby Fan
Just because Luke is a country musician doesn't mean that's all he listens to. During an interview, he shared that he's a fan of rapper and fellow North Carolinian, Da Baby. He said, "I know it doesn't seem like I would be a DaBaby fan, but he's from Charlotte. I'm from North Carolina. You gotta get hyped before the show. Everybody's got a chance if they're from Carolina for sure." He's also a big fan of Ed Sheeran and Eric Church.
3. He Performed At Carnegie Hall
Carnegie Hall is one of the most sought after venues for any musician. Getting the chance to perform there is a huge moment and something that many can only hope of achieving. Luke got the chance to perform a solo on the legendary stage when he was still a high school student.
4. He Dropped Out Of College
Luke's journey to becoming an award winning musician wasn't without its twists and turns. After high school, he enrolled at Appalachian State University, but while there he began writing songs and performing at local bars. He decided to drop out during his senior year when he was just 21 credits shy of graduating. He moved to Nashville to pursue his music career and, as they say, the rest is history.
5. He Always Wants To Remain Humble
Luke's star has been on the rise for the last couple of years, but he isn't letting any of it go to his head. He told The Shotgun Seat, "In 5 years, [I want people to be able to] say, 'hey, I met Luke Combs five years ago and I met him right now and he's still the same guy."
6. He Was A Football Player
Music isn't the only thing that Luke has been interested in. He has had lots of different hobbies throughout his life, and one of them was sports. Luke played football for several years and was a member of his high school football team. His competitive sports days may be over, but he's brought that same winning attitude into his music career.
7. He Wanted To Be A Police Officer
Luke has always been confident in his musical abilities, but he never dreamed they would take him as far as they have. Instead, his original goal was to become a police officer which is why he was studying criminal justice during his time in college. Before dropping out, however, he realized that he was no longer interested in a career in law enforcement.
8. He Likes Setting Small Goals For Himself
Most people would probably assume that Luke is the type of person who always aims for the moon, but in reality he prefers to set small goals. During his interview with The Shotgun Seat he said, "I always have been a small goals oriented guy. When I moved to town I was like okay, I want to get a booking deal. Then I got a booking deal and was like okay, well now I want to get a record deal, and I got a record deal. Now I want to put a good album out, and now I've got an album that – I think – is good."
9. He Only Uses His Hands In The Shower
This one right here may cause some controversy among the wash cloth and loofah people out there, but Luke is the type of person who only uses his hands to wash while he's in the shower. For those who were looking for some more details, the answer is no; he doesn't use bar soap.
10. "Beautiful Crazy" Is About His Wife
All of Luke Combs' hits mean a lot to him, but "Beautiful Crazy" will always have a special place in his life because he wrote it about his now wife, Nicole Hocking. He told Forbes, "I think it was a first-time thing for me as far as having that direct inspiration for a song."