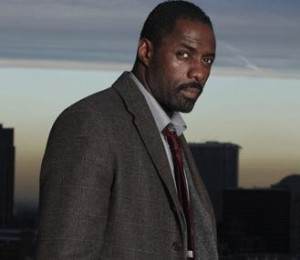 My fellow critics have been raving about Luther for the past month, and I couldn't be happier, or more amused. I've been saying this is an amazing show since I caught its UK run. The acclaim doesn't surprise me. It's as if everyone suddenly remembered that Idris Elba is one of the best actors on the small screen. Pairing Elba with both the always watchable Indira Varma (Torchwood) and material written by Neil Cross, who also leads the writing staff for a little show called Spooks (or MI-5 to the American audience), was a brilliant idea. The final product is one of the best crime dramas I've seen, possibly even better than Prime Suspect. Luther has been compared to that series, and it's a worthwhile comparison; they're both quality and both worth watching over and over again. This is the third time I'm watching the series through, and I'm still having my breath taken away.
It's a familiar archetype: a brilliant detective with a miserable personal life. Yet Detective Chief Inspector (DCI) John Luther isn't one of those TV cliche workaholics who broods a lot, forgets to shave for a day, and thinks staring at things makes him look smarter. He really is obsessive, with a half-crazed look in his eye and an unmistakable intensity. There's no question that he probably has a screw loose. We meet Luther in hot pursuit of a child abductor, and when the man falls through a weak floor and is hanging on for dear life, his indifference (or was it intentional neglect?) means that the perp falls through and ends up in a coma.
Seven months later, Luther is still there, staring down the hole, wondering what if. He's separated from his wife and college sweetheart Zoe (Varma), who's making out with colleague Mark North (Paul McGann). He's also getting a new partner in Detective Sergeant Justin Ripley (Warren Brown), who's a fan of his work. Their first case together is a grisly one: Alice Morgan (Ruth Wilson) calls the police to report the death of her family (and the dog; was that really necessary?) but did she actually kill them herself? At the very least, Luther is convinced that something isn't right with the alleged home invasion.
His investigation starts with interviewing Alice, who is also obviously not right in the head. Just one look at her tells you she's a few marbles short, making it no surprise that the two understand each other on some level. It's easy for him to finger her as a "malignant narcissist" and start turning her screws. She self-identifies as a freak and admits she hated her parents, which only encourages his theory. The two engage in a battle of wits in the interrogation room; after all, they're on the same level. Alice may have slaughtered her family, and Luther is at risk of losing his, whether it's his adulterous wife or his police family – his boss's boss sees fit to remind us all that he's a loose cannon who could destroy the entire unit. Yet without evidence, Luther has no choice but to let Alice go, to the tune of some painfully obvious dramatic music that indicates they'll meet again.
Continued on next page…