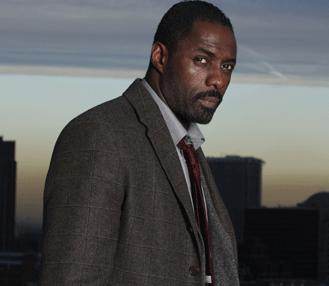 I'm kind of amused that this morning, BBC America was running the newer version of Brideshead Revisited, and tonight we get the second episode of Luther. Both feature amazing individual performances from the lead actors (Matthew Goode and Idris Elba) and both are stocked full of dysfunctional characters who do plenty of damage to themselves and others. Maybe there was a theme.
It's another bleak night as a pair of cops are shot and killed by a man pretending to be dead. This is Luther's next case, once he comes down off the roof of the building, that is – and once he's done being investigated for the scuffle he had with Zoe's new boyfriend Mark at the end of the last episode. His old partner Ian comes to get him down before he decides to take a step off the edge.
Luther and Justin visit the crime scene, which Luther declares "staged" and "an execution." Back at the office, Justin has spotted a potential suspect on nearby cameras, and Luther is sure that their man is a soldier simply by his body language. That's when he gets a phone call from a now-blonde Alice, who's signed up as a volunteer at the hospital where Henry Madsen is still in a coma. She wants to taunt him over whether Madsen really slipped or not. He warns her again not to go near Zoe. "Are you scared what I'll find out or what she will?" she says before he hangs up on her.
They finally narrow down their suspects, zeroing in on a man named Terry Lynch who has killed one police officer previously. Terry might be in prison, but his son Owen isn't, and Owen has mental health issues to boot. In other words, he's a time bomb, as evidenced by how he walks up to another police officer in a parking lot and shoots her at point blank range. By the time Luther, Justin and a horde of cops turn up on the scene, Owen appears to be gone and his victim is fighting for life – something that doesn't match with his previous kills. Luther realizes too late that it's another trap. Owen starts sniping at cops from the roof of a nearby building, killing two of them and galvanizing the detectives to find him.
Owen, however, is still one step ahead of them. He's dressing up in full military uniform, recording his manifesto to be delivered to the cops. He's still bitter about his father's prison sentence, and plans on killing cops until Terry is freed. While Luther is psychoanalzying him, Alice decides to call again for another friendly chat. He's not in the mood. "These are good cops doing good jobs being gunned down in the streets," he tells her, and when she asks if he is afraid of her, he admits that he is. She reiterates that she's going to pay another visit to his wife.
Continued on next page…