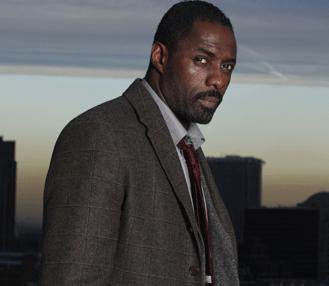 We've seen John Luther try to take down Alice Morgan. We've seen them almost bond in a strange way. Now what will happen when Luther needs the help of one murder suspect to stop another killer?
In one of the truly creepy and disgusting opening sequences in television, a young mother is kidnapped by a razor-wielding psycho named Burgess, who likes to decorate walls with cryptic messages written in blood – the fresh blood of someone kidnapped ten years earlier. (In other words, I should not have decided to have lunch while watching this episode.) It's now a race to find both past and present victims, and it's creepier than anything I've ever seen on Dexter.
Luther and Ripley try to sort out the mess that Burgess has left. Luther deduces that since the blood found at the first victim's house was also human, there has to be an even earlier victim somewhere. Just as he sends Ripley to check cold cases, he gets an email from Alice that has video footage of Mark enduring quite the beating. Mark has turned up at the station convinced that it has something to do with Luther – given that one of the girls who attacked him told him that "John says hello."
Not knowing any of this, Luther is interrogating the ex-cop who once went undercover trying to capture Burgess, hoping for clues to the man's modus operandi. The details are stomach-turning, so I won't reprint them. The ex-cop tells Luther about his harrowing fifteen-month experience undercover and how he snapped as a result. I can't say that I blame him one bit. He says his greatest regret is not killing Burgess when he had the chance. His and ours, as we're treated to more creepy goings-on, although thankfully it's more about implication than actually showing anything. Still, this episode always makes me a little nauseous watching it.
Continued on next page…