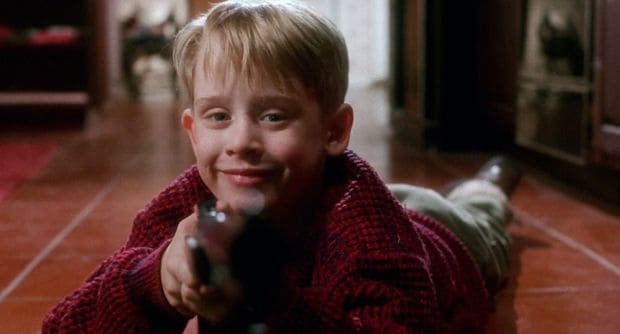 One might ask 'why?' when it comes to a reboot of Home Alone, but when it's Disney involved all a person has to do is think dollar signs and they'll have the answer. But bringing back Macaulay Culkin is something that definitely appears to be an element that's being considered to appease the fans that might protest, rant, riot, and otherwise whine if the iconic individual isn't brought back into the fold. This time around though, according to Christian Bone of We Got This Covered, it sounds as though an adult Kevin will be in charge of his own home security business and one of his buddies will be purchasing the service for his own home, meaning Kevin would become a supporting character, not the lead. That, and there's the rumor that the protagonist, the main kid in the movie to be clear, will have stolen something from a married couple, who will play the crooks, and they're bound and determined to get it back. In this manner it would almost sound as though the kid is going to be the root of the problem but in a very different way. Kevin wasn't a perfect kid but he certainly didn't rob anyone, unless one counts the toothbrush he unwittingly took from the store when he went running from his neighbor, the old man that his brother had inspired him to fear.
This should have been guessed at a couple of years back when Macaulay showed up in a Home Alone-themed commercial that had him reliving the movie in a way, but a lot of folks likely thought that moment was little more than a friendly nod to the original. Now that it's owned by Disney however it's time to stop being cute and get down to business. Already it's a belief that the Mouse House will up the ante on this movie since the childish but effective traps that caused Marv and Harry so much pain and suffering aren't likely to be believed this time. In all fairness adults likely didn't believe them back then, but as kids it was just too awesome since it was like watching a live action cartoon. Had we known just what could have really happened to Marv and Harry thanks to all of Kevin's booby traps we might have been horrified. But kids don't think about a fall down the icy steps possibly breaking and shattering bones, they don't bother to wonder how a person could survive falling on their neck, burning the flesh off their palm or head, or even having an iron dropped on their face. None of that dire stuff mattered back then because thanks to the delivery of each trap and the reactions of Daniel Stern and Joe Pesci, we were able to laugh uproariously and just have fun with it. One thing to note though, after all that damage the guys took in the house, it's kind of funny to think that a shovel to the face put them down so easily. Germain Lussier of SlashFilm has more to add to this discussion.
I'll admit to being a little apprehensive towards this movie since as I said, the ante has to be upped and the traps have to be a little more inventive to really get the crowd going. One has to wonder if we're going to see the kid in the movie make use of a drone at some point, or tell Alexa to do something that might set off a trap and therefore incapacitate one of the crooks. But then there's the idea that the crooks might be smarter and the kid therefore has to be a little more ruthless in his delivery. There are a lot of possibilities to think about when trying to discern just how this movie will go and what direction it will take, but the old days of Home Alone don't feel likely to come back since if anyone reads the comments and analysis that several people decided to take on they'll find that the gruesome truth is that Harry and Marv should have been dead several times over and Kevin would have likely been labeled as a psychopath in training. For crying out loud there are articles out there likening the kid to Jigsaw from the Saw movies, and they're not too far off the mark since even Jigsaw had to get his start somewhere in life.
Overall, just for the sake of argument, nothing is ever going to top Home Alone when it comes to a kid outwitting two burglars, especially not when asking someone from the generation that grew up watching this classic. The coming movie might entertain the next generation of kids since it's something that they're used to and will identify with, but for the rest of us, the paint cans to the face, the nail through the foot, and the BB to the nay nays is likely going to be a memory that just can't be matched. Ben Cost of the New York Post has more to say on the matter.