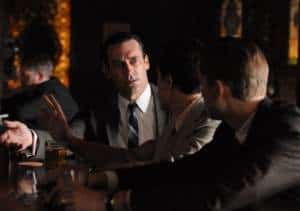 Control and fear are at the center of this episode of Mad Men as a nightmare crime has gripped the attention of a nation that is already facing a summer of unrest, both on the home front with riots and internationally as the war in Vietnam rages on. These events have both an indirect and direct impact and certain big decisions are reached by the end of "Mystery Date."
Don (Jon Hamm) is sick with what appears to be the flu; he is so sick that he has to put out a cigarette after taking one drag because he is coughing so much. One problem that Don faces in mid-town is that the chances of bumping into a former flame are rather high, a fact that Megan (Jessica Paré) is happy to remind him of when this occurs in the elevator up to work with Andrea (Mädchen Amick).
This shapes the rest of Don's day as he tries to explain that he acted this way because he was unhappy when he was married to Betty (January Jones). Megan points out that he behaved this way when he was divorced, but it can also be said that Don was not very happy during this time either. This is a case of Don trying to convince himself that he is no longer this person and this manifests into a series of nightmare fever hallucinations as Andrea manages to convince Don to sleep with her. Not only does Don succumb to his desire no matter how much he tries to stop it but he also ends up strangling Andrea and hiding her body under the bed. The big theme this season is change and if Don can change his womanizing ways that we have witnessed for 4 seasons that will be a huge evolution for this character.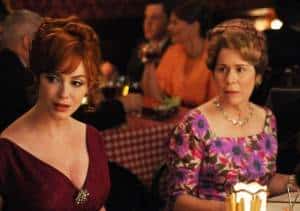 Joan (Christina Hendricks) too has a nightmare vision from her past as she continues to rail against her mother Gail (Christine Estabrook) and her opinions regarding family and fathers. Joan's own dream of finding a successful man to be her husband and father to her children didn't become a reality after Greg (Sam Page), who appeared to be the perfect guy on paper was in reality far less than this. The one moment that epitomizes Greg's weakness and insecurity is the one that will always make this character a detestable figure and that is when he raped Joan in season 2 to try and show that he had some power. Greg has finally found a place where he is needed and that is in the combat hospital in Vietnam and instead of considering his family he volunteers to return so he can feel like a man and hero. Joan responded to this unfavorably and made the huge decision to finish it with Greg and reluctantly embrace the life that she had been trying to avoid.
There are very different reactions from these characters to the big crime story from Chicago after 8 nurses were raped and murdered. With any case like this there is also an element of intrigue about the why and what of it all, especially as there is a survivor who hid under her bed during the horrific crime. Peggy's (Elisabeth Olsen) friend Joyce (Zosia Mamet) stops by with the ghoulish crime scene photos that everyone pours over except Ginsberg (Ben Feldman) who is horrified at his co-workers feverish reaction.
Sally (Kiernan Shipka) spends the episode trying to find out what happened after her Grandma Pauline (Pamela Dunlap) keeps briefly mentioning aspects, but then refusing to go into any detail. When Sally does get her hands on the newspaper that details the murders she is understandably too scared to sleep, this probably isn't helped by the creepy house she now lives in. Pauline has her own burglar alarm in the shape of a giant kitchen knife and has spent the episode criticizing Sally's attitude towards everything, so her solution of giving Sally a pill to stop the nightmares isn't the wisest. While the other characters have some control, Sally is still in a very vulnerable and unstable position that she really has no reign over. Pauline has already said that she thinks Sally needs more discipline and adds a morality tale when explaining why the nurses were murdered; she seems to place some of the blame on the short nurse uniforms that stirred the desire of the killer.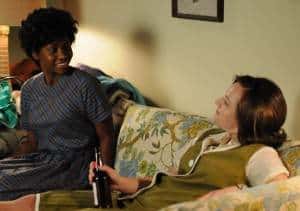 One other horror movie like aspect comes when Peggy is working late and hears a noise; the composition of this scene has Peggy tentatively approaching Don's office. Peggy doesn't find an intruder but Don's new secretary Dawn (Teyonah Parris) who has her own fears that stem from what has been happening in Chicago. This is riots related rather than the nurse story that has been grabbing the headlines. Peggy invites Dawn to stay at her place instead and while Peggy is definitely one of the more open minded characters she has a brief moment where she considers moving her bag (that contains a sizeable amount of money) out of the room in which Dawn is sleeping. It is an unfortunate moment; Peggy knows that her own struggles that are related to her gender are not the same as ones that Dawn faces thanks to the color of her skin but it did seem that there was a level of understanding.
Peggy has so much money thanks to some excellent negotiating skills with Roger (John Slattery) who has forgotten to assign Ginsberg some Mohawk work. Peggy totally busts Roger's balls and he really deserves it considering he was going to only give her $10 for doing the work on the side. This is the same guy who gave Harry (Rich Sommer) $1100 to switch offices and really Peggy is the more valuable asset. This was a really funny scene in this dark episode and they really have excellent comedic chemistry, hopefully there will be more of this as Roger scrambles to stay relevant in the office.
Other observations
-The big pitch meeting this week is for a shoe company and Ginsberg goes off topic with a nightmare Cinderella scenario and Don's own nightmare has a very prominent red shoe in it. This is the one thing that is sticking out of the bed as a sign of Don's crime and weakness; it is also gone by the morning and is replaced by sunlight and Megan. This is when the previous Don/Andrea moments are confirmed to be a horrific fantasy.
-The shot of Sally asleep under the sofa shows that she is still very much a child with very real fears of the world.
-The caper like music that accompanied Roger as he headed to Peggy's office was rather fantastic.
-Ginsberg doesn't seem to take Don's threat of "In my heart I'm on the verge of throwing you in front of a cab" all that seriously after he goes rogue in a pitch meeting. He also doesn't believe that he was almost fired; will he attempt to throw a stunt like this again?
-Dawn has noticed a common theme at Sterling Cooper Draper Pryce: "Y'all drink a lot."
-Sally has sarcasm down already as she snarks to her father about Henry (Christopher Stanley) not being able to get back home with her mother thanks to the strikes affecting air travel.
Some very different fears are explored in "Mystery Date" that have some answering the door to realization about how their choices have led them to where they are now. Others such as Sally are learning that the world is a big scary place full of actions that even when they are explained is still as scary nonetheless. Will Don be able to remain faithful to Megan? Is Sally doomed? Is Joan going to be stronger now that Greg is out of her life for good?
Let us know your thoughts about this fear induced episode of Mad Men in the comments below.