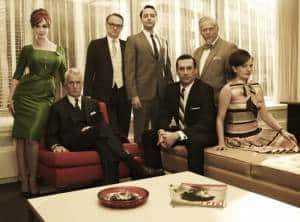 Mad Men returns this Sunday to AMC for season 5 and considering the last episode aired October, 17 2010 we thought a catch-up was in order. We also have some new promo shots from Sunday's two-part episode and the season 5 cast shots which are as stunning and as stylish as you would expect.
The video at the end of this article (courtesy of PopSugar TV) is a 4-minute overview of the whole of season 4 and if you're wondering where we left all of the main characters at the end of the season 4 finale "Tomorrowland" then read ahead.
-Don (Jon Hamm) shocked both co-workers and viewers as he proposed to his secretary Megan (Jessica Paré). This was also a surprise to Dr. Faye Miller (Cara Buono) who Don was dating at the time. Miller had astutely predicted that Don would be married by the end of the year.
-Joan (Christina Hendricks) is pregnant with Roger's (John Slattery) child after a street robbery led the pair to a brief romantic reconnection. Roger believes that Joan has had an abortion and Joan's husband Greg (Sam Page) who is away with the military believes the baby is his.
-Sally (Kiernan Shipka) is becoming more desperately unhappy at home as her mother decides they are moving house when troubled child Glenn (Martin Holden Weiner) befriends her daughter. Sally has also been seeing a psychiatrist, a psychiatrist that Betty (January Jones) has been using as a sound board for her own troubles. Betty has realised that her marriage to Henry (Christopher Stanley) isn't the fairy tale that she thought it would be and expresses some kind of wistful regret when Don tells her of his engagement.
-Things are going pretty well for Pete (Vincent Kartheiser); Trudy (Alison Brie) has just had their first child and while the agency isn't financially stable Pete has proved that he is a good account man and loyal to Don and his secret. Don showed his gratitude to Pete by paying Pete's $50,000 contribution to keeping the firm afloat. They certainly have come a long way since Pete attempted to blackmail Don at the end of season 1.
-Peggy (Elisabeth Moss) continues her successful career even with the gender related obstacles. Peggy obtained a new account at the end of the season and accounts are very much needed to keep Sterling Cooper Draper Pryce afloat after Lucky Strike withdrew their business. Peggy and Don have a particularly strong working relationship especially after the emotionally fuelled episode "The Suitcase." Peggy is also having the most counterculture related experience of the 60s, particularly with her choice of friends and lover towards the second half of the season.
So that is the end of season 4 covered but where will season 5 take us? As we have previously said Matthew Weiner is notoriously strict when it comes to any spoilers, though he has revealed that once again the theme will be change and that really is the running theme throughout the series. The new promo photos don't reveal much in terms of plot, other than we will be seeing them both at work and at a social function where there are a lot of bold patterns in the costuming (Janie Bryant working her magic as always). The cast promo shots can be analyzed in terms of who has been paired with who and the positioning of each person in the shot or they can just be looked at from a purely superficial stance. The same can be said about the official season 5 promo poster; what is the meaning behind this composition?
Any season 5 theories? Will Don be married to Megan? Will Sterling Cooper Draper Pryce be more successful? What would you like to happen in season 5 of Mad Men? Let us know in the comments and watch the season 4 catch-up below.
Mad Men returns this Sunday, March 25 to AMC with a 2 hour episode "A Little Kiss" at 9/8c.