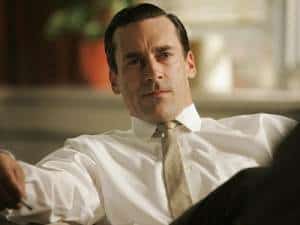 Don Draper and friends will live to see another day.
AMC has officially announced that a fifth season of its flagship drama, Mad Men, has been officially greenlit for production for a premiere date in early 2012. Here's the full statement:
"AMC has officially authorized production of season 5 of Mad Men, triggering our option with Lionsgate. While we are getting a later start than in years past due to ongoing, key non-cast negotiations, Mad Men will be back for a fifth season in early 2012."
The "key non-cast negotitations" mentioned in the blurb concerns AMC's contractual dispute withe Matthew Weiner over some key points in the deal that Weiner was not too happy about. The key points include inserting product placement in the show, cutting two minutes of episode time for more commercials, and cutting two regular characters to either recurring or getting rid of them altogether. Out of those demands, it's been surprising that the first two are the ones that have fans up in arms rather than losing a character or two. You can read all about that here.
Weiner himself has yet to make a comment on the news, but it's interesting to figure out how this will work without a firm deal set in place between creator and network that will benefit everyone at the end of the day.
Mad Men, which usually aired in the summer, will now have to face new opposition with primetime television from the off cable networks. Whether or not the audience will follow is anyone's guess at this point.
Update: Mad Men is slated to premiere in March 2012, which is 17 months after the fourth season finale. Matt Weiner wanted to shoot for a 2011 premiere date, but AMC claims that the next available slot to premiere the show is next March, given they have other shows to premiere and work with as well.
Will you still tune into Mad Men on Sunday night's next spring?