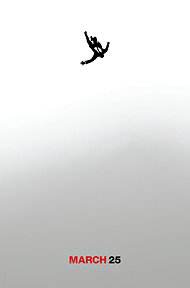 It's been a long time since we had a new photo of Don Draper (Jon Hamm) and this new Mad Men season 5 poster delivers just that. The shot for season 4 featured Don standing in an empty office, with only a phone for furniture signifying a new start. Season 3 was somewhat foreboding as Don is sitting in his office, flooded with water. So what have we got for Season 5?
A teaser poster was released last month (see right); using the iconic image from the opening credits and is effective in its simplicity and only featured the date that the show will return to AMC. The new poster (which you can see below) is as ambiguous as you would expect and has Don looking at a shop window display; the male mannequin is clothed in sleepwear and is sitting, while the female one is standing naked, with clothes at its feet.
Mad Men creator Matthew Weiner spoke to the New York Times about this promo saying that "This is a dreamlike image" and it is "a nonverbal representation of where my head is at and where the show will be." Weiner of course is notorious for keeping a tight lid on any kind of spoilers for the show so this vague and somewhat cryptic answer is to be expected.
Linda Schupak who is the executive vice president for marketing at AMC adds that "Just like the show, we never want to be literal. And we want to be provocative." This promo certainly is that and I'm pretty sure that there will be many different interpretations to come from this. I also think that people will be happy to have something new to talk about with regards to Mad Men and this image will be a welcome sight.
What do you think it means? Is this Don Draper's view on his relationship with women? Is his reflection what we should be focussing on? The photo also reminds me of this season 3 promo photo of Betty (January Jones); is there meant to be a connection? Let us know your thoughts in the comments below.
Mad Men returns Sunday, March 25 with a 2 hour episode "A Little Kiss" at 9/8c.