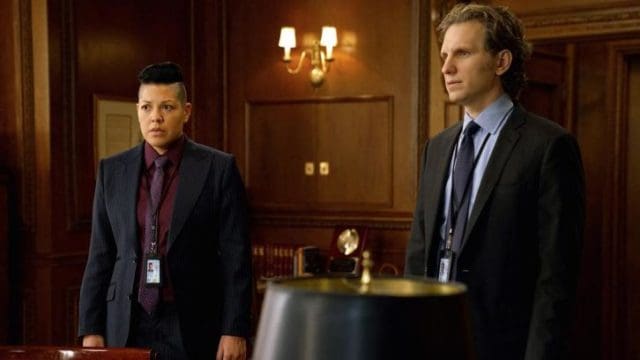 We all want to be our own person. To have the freedom to express ourselves in the way that we see fit. No one wants to be someone that they're not. In this week's episode of Madam Secretary, tensions rise in Abkhazia as LGBTQ citizens attempt to flee the country. Jason also gets some life-changing news but chooses to hide it from his family.
The episode opens with a young lady heading to a secret underground club for the LGBTQ community. Once inside, she meets with her girlfriend. The two kiss and then immersed themselves in the music. Suddenly, police officers raided the club, arresting everyone and imprisoning them. It's one thing to have an opinion, it's another thing to treat those who are different as if they are criminals. I applaud shows like Madam Secretary, Lucifer, Legends of Tomorrow and many others for shining a spotlight on this issue. All people should be treated equally. No matter their race, gender preference or sexual orientation.
With regards to how Jay and Kat handled things with saving the refugees, I agreed with Elizabeth's assessment. It's great that they're willing to do whatever it takes, but they lost sight of the bigger picture. Diplomacy is not something that one should undermine. They should know who they are working with in order to come up with a safe and legal strategy to go about solving the problem. Sometimes I feel like the Secretary is like a mother to her team. Whenever they mess up, it's up to her to clean up the mess. At least the refugees who managed to get out of Abkhazia made it to Bulgaria, but at a cost of course as Elizabeth has to smooth things over with President Lakoba.
Meanwhile, Jason gets some exciting news. He got a perfect score on his PSATs. Though instead of being happy about it, he chooses to hide it from his parents. Turns out that he didn't want to tell them because he didn't want to have to live up to Mom and Dad's expectations. He wants to make his own choices about his future, not follow down some pre-determined, planned out path. Hopefully after getting advice from Uncle Will at the Walter Reed Medical Center and Henry that he will be able to figure things out.
Final Thoughts:
I snickered during the scene where Matt convinced Blake to join his trivia team. I guess the saying is right. The way to a man's heart is through his stomach. I also felt sorry for Blake as he gave up his spot on the team so that Matt can have some one-on-one time with their other teammate Ronnie Baker, who, according to Blake, has a thing for the speech writer. One, I hope this works out, because if it doesn't then poor Blake sacrificed his chance to eat at a Michelin star restaurant would be for naught. Two, Matt had better think of a way to make it up to Blake. I don't care how, just that he does.
Kudos to Henry for getting a commendation from the CIA even though it's the latter's way of making themselves feel better after Henry quit.
Kat is bisexual and is co-parenting with Adam, the father of their son Desi. Maybe the latter two would make an appearance on the show one day?
"Life doesn't come looking for you. At some point, you have to go out and look for it." Couldn't have said it better myself, Henry.
Photo via CBSÂ 
Madam Secretary Season 4 Episode 14 Review: "Refuge"
Summary
Jay and Kat devise a way to help persecuted LGBTQ citizens in Abkhazia escape their country. Jason also receives life-changing news which he then hides from his family in this week's episode of Madam Secretary.