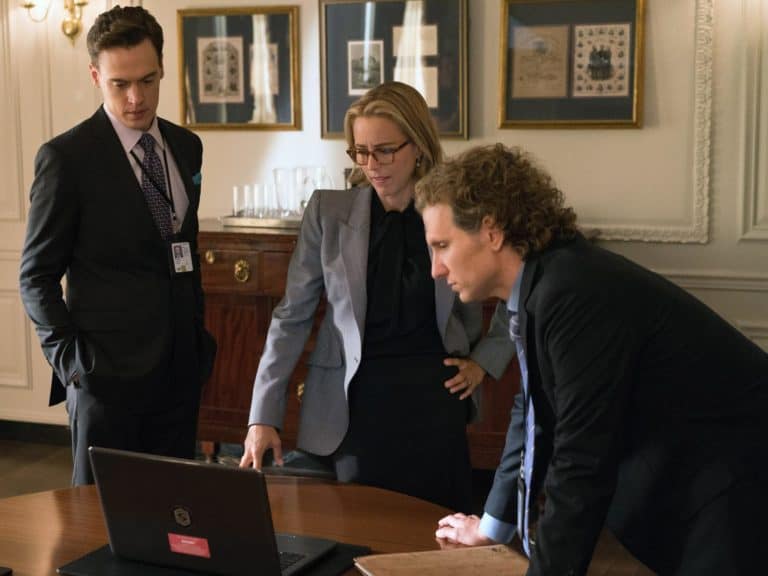 When it comes to playing politics, Elizabeth McCord is good at dealing with emotions. When it comes to playing dirty, that's another matter altogether. In this week's episode of Madam Secretary, the Secretary of State deals with the aftermath of the shutdown. That, and trying to convince Senator Morejon to agree to the deal given by President Dalton a couple of weeks ago.
I applaud Elizabeth for using the toy factory tour in Peoria, Illinois to show that not all immigrants are terrorists. Then Morejon just took that heartwarming moment and turned it into something negative. I was practically waiting for Russell Jackson to fight fire with fire, but Elizabeth got to the senator first. She told Morejon that the White House Chief of Staff has information on the senator's wife that will hurt him politically. The latter merely brushed it off as an empty threat, telling M. Sec that this is how one makes enemies. Wow. Just. Wow.
I also applaud Henry for making the best of what is happening. Instead of having a romantic weekend in Paris, it's a staycation at home in a bed and breakfast place in Peoria. The night got a bit tense, however, when Elizabeth brought up the fact that Henry postponed taking their son Jason to the Spy Museum. The former worries about the latter, saying that even though she understands him having to save Dmitri, it's no reason to push their children away. Uh, Elizabeth? You've done the same thing when you prioritized Henry and the kids over your job. He's never thrown it back at you once, and now you're giving him heck about it?
Speaking of kids, Jay had to bring his daughter Chloe with him to work at Elizabeth's suggestion. Watching him trying to do his job and care for his daughter was exhausting. I agreed with Matt when he gave the policy advisor a pep talk about knowing when to say "stop". No one can be a parent when dealing with a crisis. On the other hand, congratulations are in order as Jay is promoted to be Elizabeth's new Chief of Staff. It would have been nice to see the interview process a little bit before making the final decision, but I digress.
Side Notes:
Russell telling Elizabeth to stay in her lane was spot-on. I wonder if he watches Empire?
The ending scene with Stevie backing out of the England trip at the last minute was hurtful. I get that she needs time to process her relationship with Jareth, but this is much too sudden. I feel sorry for the guy as he now has to go back home alone. That, and their engagement is pretty much dead in the water.
Loved the part where Henry gave Elizabeth an exact replica of her father's watch! Best. Husband. Ever!
Blake's stress rash. Is that a thing? Oh, and telling someone not to check their social media is going to make them check their social media. Curiosity killed the cat after all.
The Ebola narrative is underplayed, but it was useful in that it made Senator Morejon agree to the budget settlement set by President Dalton.
Photo via CBS
Madam Secretary Season 4 Episode 4 Review: "Shutdown"
Summary
Elizabeth deals with the harsh words of Senator Morejon while searching for a suitable replacement for Nadine in this week's Madam Secretary.