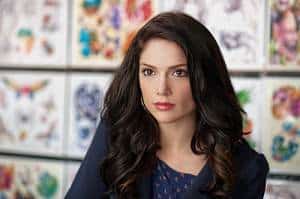 Made in Jersey sounds like the classic "fish out of water" story. Janet Montgomery stars as Martina Garretti, a young working-class woman from New Jersey who ends up getting a job at a prestigious New York law firm. Of course, she immediately encounters snobby and pedigreed Manhattan colleagues at work. But Martina isn't about to let her co-workers get her down, not her with tenacious spirit and can-do blue-collar attitude.
It's this very attitude that attracts the attention of the firm's founder Donovan Stark (Kyle MacLachlan), and Martina's secretary Cyndi Vega (Toni Trucks). Back home as her support team is Martina's big Italian family, including older sister Bonnie (Erin Cummings).
Watch a featurette with clips for Made in Jersey below, which will be airing on Fridays nights at 9:00 p.m. beginning in the fall.
For more on CBS' 2012-2013 primetime schedule, click here.
Twitter: https://twitter.com/#!/MadeInJerseyCBS
Facebook: https://www.facebook.com/MadeinJerseyCBS