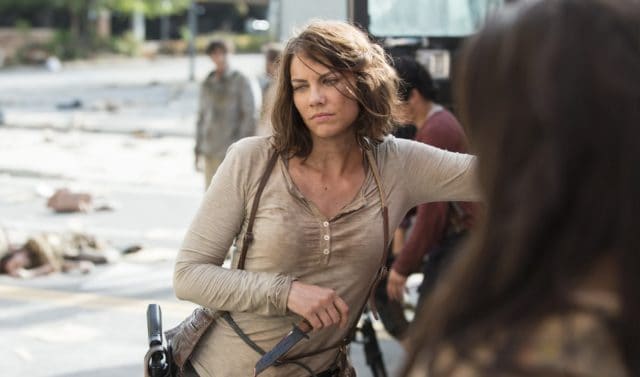 It has been confirmed that Lauren Cohan will be returning to the next season of The Walking Dead. However, considering the setup for her character Maggie as well as the fact that she is set to star in an ABC pilot, it seems probable that she will be leaving the series in one way or another. As a result, now is a good time to reminiscence about some of Maggie's best moments from The Walking Dead, which can be rather challenging when there have been so many over the course of her stay on the series.
Here are the top five Maggie moments from The Walking Dead:
Maggie and Glenn in the Pharmacy
Maggie's relationship with Glenn has been one of the most critical components of her character over the course of The Walking Dead. As a result, the start of their relationship is worth mentioning here. This is particularly true because Maggie is the one who initiates, which is a pretty interesting character-establishing moment.
Maggie and the Egg in the Hat
With that said, the interesting relationships are the ones who their fair share of both ups and downs, which is something that extends to Maggie and Glenn's relationship. For proof, look no further than the egg in the hat incident, which communicated Maggie's feelings about Glenn revealing the walkers in her father's barn in a very simple but nonetheless very effective manner. Granted, it wasn't particularly mature, but too much maturity is overrated when it comes to TV drama.
Maggie Delivers Judith
Childbirth is dangerous. In fact, childbirth is so dangerous that it was a common cause of death for women in historical times, so much so that at least one culture compared it to fighting on the battlefield. Suffice to say that the circumstances in The Walking Dead are bad even by the standards of historical times, which in turn, means that helping out the mother is that much more important. Unfortunately, Maggie couldn't help save Lori, but she did manage to save Judith, which was made possible by Judith's choice to get a Cesarean section that she knew would kill her.
Maggie Survives By Scaling a Lookout Tower
Panic is a killer. For proof, look no further than the countless people who have frozen up when presented with bad circumstances, which contributed to their deaths by causing them to either take no action or take a less than optimal action. Maggie came very close to death in Season 6 of The Walking Dead when she was swarmed by walkers during a simultaneous double-breach of Alexandria, but instead of panicking, she made the most sensible choice under the circumstances, which was climbing up a lookout tower. It wasn't enough to save her on her own, but it was enough to buy her valuable time so that other people could come in to lend a helping hand. On the whole, the scene was a solid reminder that refusing to give up can help people overcome challenging situations, particularly when they have trusted individuals by their side to get them over that last inch when they fall short by relying just on their own capabilities.
We'll Show Him
In the finale for Season 8, Rick made a choice to spare Negan because of Carl's insistence on peace, though not before he had literally slit the man's throat. Unsurprisingly, this wasn't exactly welcomed by Maggie and some like-minded people, who have very understandable reasons to want Negan to be thoroughly dead. As a result, the scene in which Maggie promised to bide their time before "showing" Rick was more than a little bit ominous, not least because exactly what that means remains unclear at this point in time. However, considering that Maggie is set to exit the series in Season 9, this could very well be setting her up to become the next antagonist of note in the series, which could be very interesting provided that it is executed well.