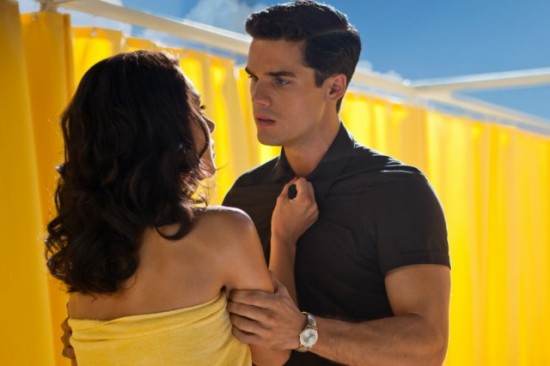 Stevie's affair with Ben "The Butcher" Diamond's wife Lilly has been one of the tenser elements of Magic City. Each moment they steal, every time they give into their desire for one another, there's the possibility of Ben, one of his associates, or an enemy/competitor of Ike catching them and ruining everything. Of course, taking pictures of themselves in a compromising position didn't help matters, but once Divin' Dave was dispatched of, they were in the clear.
Right?
Judging by the sneak peek of tonight's season finale, they might just be in the clear, as Stevie tells Lilly that he has every bit of photographic evidence of their affair. The two may be able to continue their relationship, dangerous as it may be, which you would think would be the last thing on their minds. However, Stevie has already admitted to liking the possibility of being caught lingering over every encounter he has with Lilly and considering the little bit of arrogance in him, I'm betting that the Prince of Miami thinks he's damn near invincible now. He dodged the bullet (or, in this case, the blade) and Ben's none the wiser.
But how far can it go before the danger goes from being a turn on to threatening their lives? How close can they get to being found out before they decide to pull back? Or is it all just too late?
The season finale of Magic City airs tonight at 10:00 on Starz. You can check out multiple sneak peeks and a preview of the finale here and here.
Now that all the video previews are out for the Magic City finale, which storyline are you looking forward to most? Do you think any of the major couples won't make it to season two? Will Ben ever catch on to Lilly's affair?