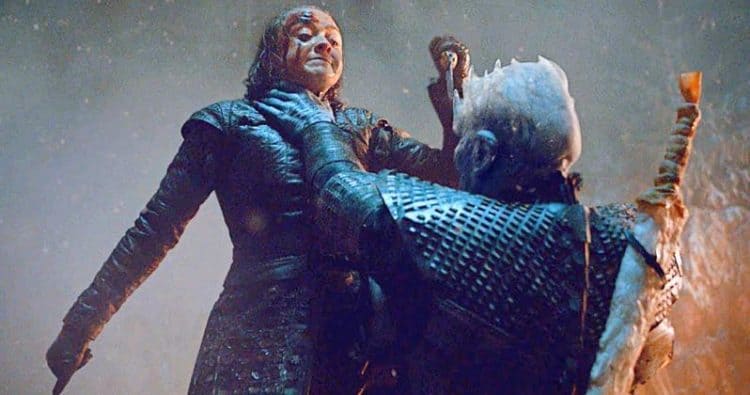 Game of Thrones had such a great start but went out on a note that left many feeling that they'd swallowed a mouth full of ashes, or something particularly unpleasant since it did feel as though the showrunners were rushing us through the final season without giving that much of an explanation why. It was almost expected that the human armies of Westeros would have to fall back against the army of the undead since the Night King was utterly ruthless and continued to push onward, but thanks to Arya and her knife things turned out okay. That sounds a little too simplistic and definitely defeatist, but the truth is that Jon Snow was set up at one point to take on the Night King and make a better ending than we were given, but somewhere along the line Arya's story began to take shape and the little horse-faced girl from the story became the badass assassin that took down the Waif and took out the entire Frey clan on her own. Arya became the very image of death at one point since despite looking calm, composed, and completely at ease, she was obviously burning inside with a need for vengeance, and by the third episode of season 8 she was more than ready to continue ticking names off of her list, but there were a few other pressing concerns to deal with at that moment.
Many feel that the Night King being taken out by a simple knife thrust, despite the fact that the blade was made from Valyrian steel, was kind of a cheap way to deal with a character who had been built up to such a degree that he should have been far more difficult to defeat. The Night King was able to raise the dead with a simple gesture, he could stand his ground while a dragon breathed fire in his face, and he was also a skilled opponent that had an undead dragon at his disposal. How in the world was he taken down easily when he could have ended Arya's life in an instant? It might have been more impressive to watch Arya take out the Night Kings white walkers, but obviously the intention was to go for the king and kill him where everyone could see him die. But the death scene was definitely anticlimactic in a big way since, after this, there was really nothing more for Arya to do since she spent the last couple of episodes wandering around King's Landing and trying t avoid being incinerated or crushed as Dany decided to take Drogon and raze the city. One has to wonder if Arya would have come after Daenerys if Jon Snow hadn't killed her first, since it was very obvious that Arya didn't have a lot of loyalty to the queen and would have likely seen the action as necessary. One fight that might have been interesting would have been Arya vs. Grey Worm since the two are highly-skilled fighters, but obviously Grey Worm was raised for little else but fighting.
It did sound at one point as though the theory was that Arya would steal Grey Worm's face and use this to get close to Dany before ending her, but obviously that idea was scrapped since Arya never came anywhere near the queen. Her intent was originally to kill Cersei, but thanks to Daenerys this wasn't a possibility since Cersei died when the city collapsed. In fact, it's fair to say that among the many death scenes, the Hound vs. the Mountain fight was one of the best since it gave us a fight that was finally living up to its potential, kind of. But Arya attacking the Night King might have been better had it turned out a different way, not with the Night King killing Arya of course, but with the assassin having to accept a bit of a challenge as she and the main villain squared off for a bit. Imagine the emotional investment that would have gone into such a fight, especially with Brandon Stark's life on the line. The last season was just too rushed, as many people would agree, since it went from high expectations to WTF in a matter of a few episodes, and never recovered.
Many people would love to see what might happen to Arya and even to Jon Snow since he was sent to the Wall again, but obviously that's not going to happen since the creators of the show are off to other projects at this time and aren't interested in revisiting the idea. Sometimes it's best to move on, but people are probably going to be talking about this ending for some time to come, especially since the Night King could have been one of the ultimate enemies of all time.