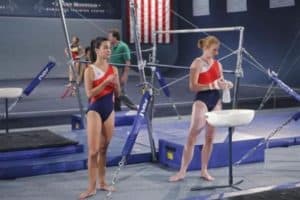 After nearly a year has passed since it was on the air with new episodes, it's less than two weeks until the girls from The Rock tumble back into our lives. Season three of Make It or Break It is upon us and following in the same path as they went with The Lying Game, ABC Family is rolling out the premiere in style.
On premiere day (March 26th), SOAPnet will be showing a marathon of the last ten episodes of season two, including the pivotal finale that truly tested the mettle of Payson, Kaylie, and Lauren. A lot happened over these ten hours of Make It or Break It, from alliances severing to beautiful performances and tough decisions about the future, so get a chance to relive the action by checking out the marathon. Listed below are the start times, names, and brief descriptions of each episode in the marathon.
9:00 AM – "The New Normal" – With the World's tryouts over, there is very little for The Rock girls to celebrate.
10:00 – "Free People" – When the new coach arrives at The Rock, life as they knew it changes – for the better and for worse.
11:00 – "The Buddy System" – The girls get a chance to walk in each other's shoes when Darby has the girls swap routines.
12:00 PM – "Life or Death" – The choices that are made at The Rock have a different outcome than expected.
1:00 – "Hungary Heart" – The girls take fate into their own hands as they set out to bring Sasha back to The Rock.
2:00 – "Requiem for a Dream" – One of The Rock girls must deal with surprising, and possibly career-ending news.
3:00 – "To Thine Own Self Be True" – Kaylie's return may not be the warm welcome she was hoping for.
4:00 – "Dog Eat Dog" – The gym heats up as the last slot for the World's team is filled.
5:00 – "What Lies Beneath" – Confidences are betrayed on the eve of the World's competition.
6:00 – "Worlds Apart" – Everything is laid on the line in Rio as The Rock girls compete for the World's title.
Make It or Break It returns Monday, March 26th at 9:00 on ABC Family. It will be airing alongside The Secret Life of the American Teenager, which begins the final eight episode stretch of its fourth season the same night at 8:00.
Are you all caught up on Make It or Break It as of now? If not, do you think you'll check out any of the marathon? What do you hope happens in season three?