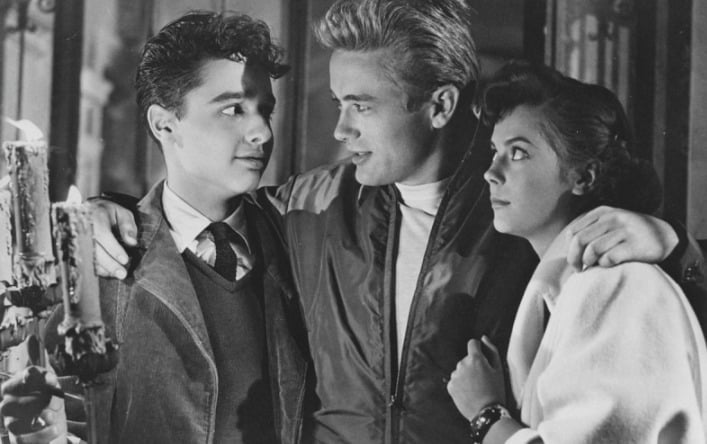 A lot of folks might not even remember who Sal Mineo was, but back in his day he was very popular and he was one of those individuals that rose quickly and then fell just a quickly. His popularity had a lot to do with his youth and being able to play certain roles that he seemed perfect for. Once he got a little too old however he was passed over just as many people have been in their careers, seen as too old to continue the part and not able to compete with those that had time on their side and a burgeoning career ahead of them. Had that been Sal's only tragedy in life though he might have been able to get around it and make something continue to happen in his advancing years. But that wasn't bound to be the case with Sal, as he was fatally stabbed when he was only 37 years of age. It was a horrible waste of a life that could have been on the rise as he was stabbed after a rehearsal. The killer was eventually brought to justice thankfully, and Sal's legacy has managed to remain much as it was upon the time of his death, rather uncertain but still solid enough to warrant a biopic on the basis that he could be seen as yet another person that Hollywood needs to remember.
Here are a few good reasons why a biopic would be a great idea.
He was typecast when he was younger and couldn't seem to break out of the same role.
For a good chunk of his career Sal was cast as the troubled teen that couldn't seem to catch a break. This is a strong role that a lot of younger actors can play but it does manage to become the role that they're known for after a while since it plays to the audience by casting them as dramatic and tragic figures. Sal attempted to break out of this role more than once but found it increasingly difficult since he was pushed back into the role again and again with each film. It didn't matter if he was playing a different race or ethnicity he was almost always cast as the teenager that dealing with a great deal of stress and had troubles with his life in some regard. Once you step into a role and perform well enough to get the attention of producers and directors alike it seems that some of them will attempt to keep a person in that role as long as they can.
His fame declined without warning.
It seemed like overnight that Sal's popularity waned and then crashed to the ground. He couldn't get the parts he wanted, he didn't get noticed any longer, and his status as a star had dimmed and faded the moment that producers failed to give him a call for new roles that he could have fulfilled. Once he was past the age where he could play the troubled teen Sal found it difficult to impossible to get jobs and had to resort to camping out on people's lawns to at least try and get a part in films that he wanted to belong to and almost beg for people to take him on. Not a lot of it worked, but he did manage to finally get people's attention at some point.
He was making a comeback.
Just before his murder he was starting to mount a comeback as people had started taking notice of him again and his fame was back on the rise, at least in a positive if not overwhelming way. After trying to get the attention of his fans and anyone that would listen for so long he was finally getting back into the spotlight and was making a great case for why he should still be considered as one of the more notable acts in Hollywood. He was cut down before anything like that could happen however, which is very tragic since there's no way to tell just how great he could have been if he'd lived to a ripe old age.
Sal opened up about being bisexual.
Sal dealt with rumors about his being homosexual for years but had been seen with beautiful women throughout much of his career. While homosexuality during the 50s and 60s was seen as less than desirable in many areas he maintained that he was bisexual though many people didn't seem to believe it. Some were under the belief that he hung around with women to present a face to the public that painted him in a more hetero light but was secretly gay. Sal did manage to open up about his sexual orientation however and claimed to be bisexual. The LGBT community however decided to see him as a shining light that spoke well for their cause. In any case, Sal was the kind of guy that seemed to like men and women as he was seen with both during his career.
The tragedy that became Sal's life, coupled with the meteoric rise to fame, would definitely make for an interesting biopic.