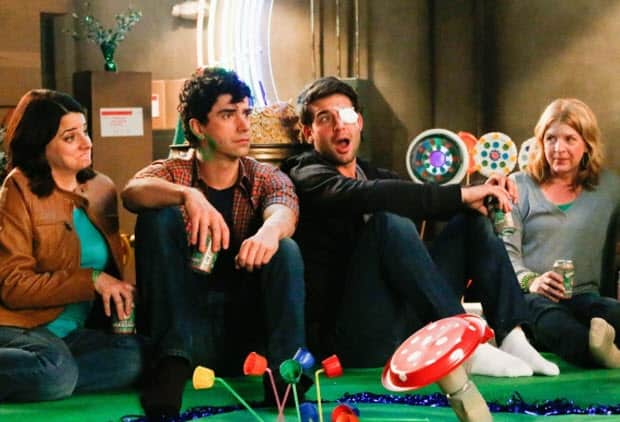 It's that time of year again: The time of year that you can become elated or disappointed, and it's entirely dependent upon your favorite TV network. So, in case network executives are reading, I've built (what I hope to be) a compelling argument for them to give some of my favorite shows another chance next season, starting with one of my favorite new comedies!
The chief complaint I've read about The Crazy Ones is that it relies too heavily upon Robin Williams' antics and improvisational skills. I admit that may be true, but only for the first few episodes of the series. Since then, the CBS single cam sitcom has heavily relied upon its supporting players and guest stars and it has worked magnificently, making for an entertaining half-hour that doesn't entirely rely upon the experience of Robin Williams (but don't get me wrong, he's hysterical). All that aside, Williams is a continued asset to the show because (in case you forgot) he has some fantastic dramatic chops. While I realize this is a comedy, dramatic chops can only help, especially the longer a sitcom runs.
Sarah Michelle Gellar is a smart, funny, charming straight-woman. Naysayers of this show will contend that she is nothing but added star power, but I find the opposite to be true. Â She not only validates the show's namesake (Crazy Ones, implying plural), but she often takes a backseat to lesser known players for the sake of an entertaining story. Her character (Sydney Roberts) has neuroses that make Williams' character (Simon Roberts, Sydney's father) occasionally look sane by comparison.
The Crazy Ones also relies heavily on its remaining ensemble members. Whenever I read about this show I seem to read almost exclusively about Williams and Gellar, and read little to no mention of its other major players. Â Zach (James Wolk; Mad Men) is hilariously cheesy and Simon has a huge man-crush on him. Andrew (Hamish Linklater; The New Adventures of Old Christine) is hilarious partnered with anyone, and the dynamic between he and Zach is perfectly hilarious. Andrew also has romantic tension with Sydney, which I hope to see explored further. Lastly, Lauren (Amanda Setton; The Mindy Project) I, too, had written off. I changed my tune, however, when everyone in the agency got sick and Lauren had to take over a campaign. Setton is a beautiful, fantastic actress and adds a lot to what was already a very well-rounded, comedic ensemble.
Finally, the guest stars on The Crazy Ones have really brought out the best in the ensemble cast. Â Brad Garrett (Everybody Loves Raymond) recurs as Gordon Lewis, head of the financial side of the firm. Tall and short (the contrast between Garrett and Williams) perfectly describes the polar opposite nature of Simon and Gordon, but it makes things that much more interesting. One of my favorite guest stars this season has been Josh Groban (also one of my favorite guests on The Office), who plays Danny. Danny is a former jingle writer who wrote a song expressing his love for Sydney (called "Sydney". Yeah, it was pretty cheesy, but catchy!) and after she breaks his heart, Simon, Zach, and Andrew try to purchase the rights to it for their ad campaign for Sydney, Australia. The songs were catchy and the hi-jinks were hilarious, making that my favorite episode to date. Furthermore, Pam Dawber (Mindy from Mork and Mindy) will be reuniting with Robin Williams in an upcoming episode.
At the end of the day, I realize that this is a ratings game, but The Crazy Ones has put up numbers good enough to warrant following through with a second season. When you really sit down and watch this show, you'll be invested in the characters enough to hope they land another chance! Don't let me down CBS! Bring 'em back for one more! What do you think? What shows would you like to see renewed?
[Photo: Richard Cartwright/© 2014 Fox Television. All rights reserved]