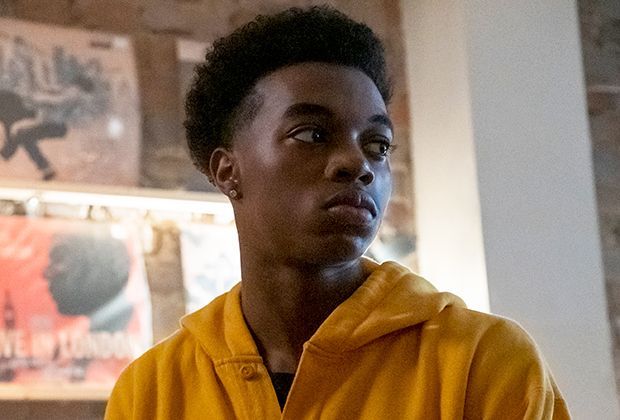 Maliq Johnson is young, talented, and driven – three things that have served him well throughout his professional acting journey. Since making his debut on screen appearance in 2013, Johnson has been working his way through the ranks to achieve bigger and better chances to share his talents with the world. After a series of minor roles, Johnson finally got his breakout opportunity when he earned a starring role in the Netflix series, Grand Army. Since the show's debut, Johnson's performance has been getting lots of great reviews and countless people are excited to see what he does next. Keep reading for 10 things you didn't know about Maliq Johnson.
1. He Hopes Grand Army Will Give Viewers New Perspective
Grand Army is a series that touches on lots of sensitive subjects and followers a diverse group of characters. Maliq hopes that by watching the show, viewers will be able to get some insight into different perspectives and hopefully get a better understanding of the fact that people deal with a variety of different realities.
2. He Learned How To Play The Saxophone For The Show
Jayson, Maliq's character on the show, is a talented saxophonist, and lots of viewers have wondered whether or not he is really playing the instrument during scenes on the show. Although Maliq isn't actually a musician in real life, he did learn how to play the saxophone for the role.
3. He Has A Girlfriend
Maliq is a handsome guy, and since being in Grand Army there are probably lots of people who would love to have a shot with him, but he is already spoken for. Maliq is in a happy relationship with Madai Chakell. Madai is also an actress who has two on screen acting credits according to IMDB.
4. He Is A Dancer
Maliq is clearly a very talented actor, but that isn't the only thing he's good at. He is a performer to his core and he also loves to dance. Occasionally, he even uploads videos of himself dancing on Instagram. Hopefully one day he'll get the chance to play a role that also allows him to incorporate his dancing skills.
5. He Was In An Episode Of Power
Even though he doesn't have the longest resume, Maliq has mad the most out of the opportunities he has gotten so far in his career. In 2018 he appeared in an episode of the hit series, Power. Although his role was very minor and his character didn't have a name, it was probably still a cool experience.
6. He Is From Brooklyn
There are definitely lots of differences between Maliq and his character, Jayson, but there are also some things they have in common. Like Jayson, Maliq was born and raised in Brooklyn. Another thing Jayson and Maliq have in common is that their high school experiences weren't exactly ideal. Maliq is a graduate of Cobble Hill School of American Studies. When describing his high school he said, "I almost felt like our school was a prison."
7. He Is A Dog Dad
Maliq doesn't have any children of his own, but he's getting lots of quality parenting practice in thanks to his adorable pitbull named King. Maliq and his girlfriend got their dog in 2020 and they quickly formed a close bond. Like any devoted pet parent, Maliq has created an Instagram account just for King.
8. He Prides Himself In His Ability To Play Different Roles
Acting is about entertaining, but Maliq takes his job much more seriously than that. In an article he wrote for Teen Vogue, Maliq said, "Visual representation and inclusion are important because it's about perspectives, challenging norms, and pushing boundaries. I can play a musician, I can play a doctor, I can play a lawyer … we can be other things than a thug or a rapper on screen."
9. He Is A Basketball Player
Maliq loves to stay active snd one of his favorite ways to do that is by playing basketball. Even though he's not a member of an organized team at the moment, he loves to play for fun and for charity events. It's unclear whether or not he was a member of his high school's team.
10. He Is A Positive Person
Being a professional actor comes with lots of ups and downs, and it can be easy to give up when things aren't going well. However, in addition to having a solid work ethic, Maliq does his best to maintain a positive attitude and make the most out of every situation he finds himself in.