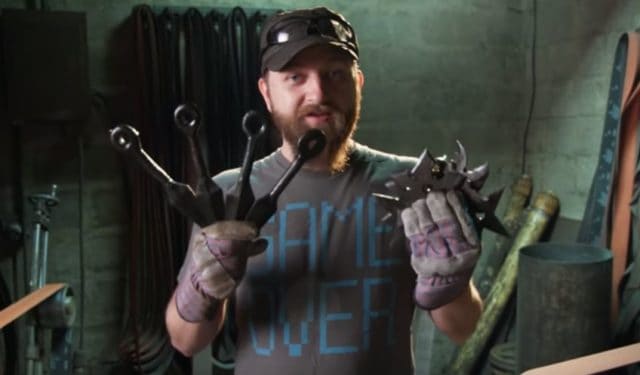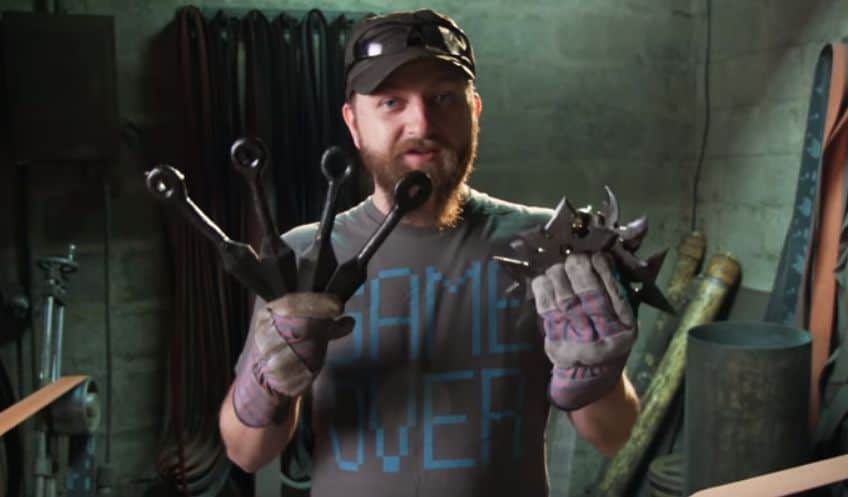 If it was possible to be amazed when Adam Savage created his own copy of Excalibur out of a hunk of aluminum, then it's simply astounding to watch Man at Arms forge both the kunai and throwing stars from the fan favorite anime Naruto.  The show has gained a great deal of popularity over the years for a number of reasons, but the weaponry used in the cartoon is without a doubt one of the greatest draws. Ninja weapons have almost always been coveted by those that enjoy the scifi, fantasy, and even historical retelling of the famed shadow warriors that once gave the samurai such a hard time. The kunai and throwing stars are only two weapons within the impressive arsenal that ninjas used to use, but in the world of manga comics and anime they are absolutely some of the deadliest weapons any assassin could hope for.
Watching those at Man at Arms make each piece is an interesting process.
Unlike the impressive grinding and polishing of a piece of aluminum, which still a lot of hard, back-breaking work, these weapons are forged, beaten, and ground down as functional weapons that could possibly be used. Whereas the great effort put forth by Adam Savage was more for decorative purposes these weapons are able to be used to the degree that they will not show as much wear upon each impact. Granted, they will need sharpening after a while of being used, but they are solid and are not as liable to be damaged. Each part of the process is very interesting as you can see the knives taking shape as each one is hammered out to the desired specifications.
The plasma cutter is the only way to deal with such intricate and delicate designs.
The shurikens are anything but delicate when they're finished, but they are extremely detailed and thus require something that is far more capable than a human hand in the matter of their design. Thinking back to the designs favored by the actual ninjas throughout history it boggles the mind how they must have gone about creating their own weapons. Just cutting them out and then getting them sharpened and polished seems like an intensive process.
The fact that they stay as true as possible to the design is simply brilliant and stands as a testament to their skill and dedication to the craft. Weaponsmithing has certainly changed over the years, but some things still seem to stay the same. These sturdy but extremely deadly weapons are a part of a history that has been handed down for generations and is to this day more of an art form than a necessity. Thankfully there are those that still see it as necessary, especially considering that the idea of creating weapons that don't need moving parts and constant ammunition is still fairly important.
You can't stop a missile or a bullet with a knife or a shuriken, but you can sure as heck stop another human being. The art of creating weapons is something that we should hope never fades out completely.
Save