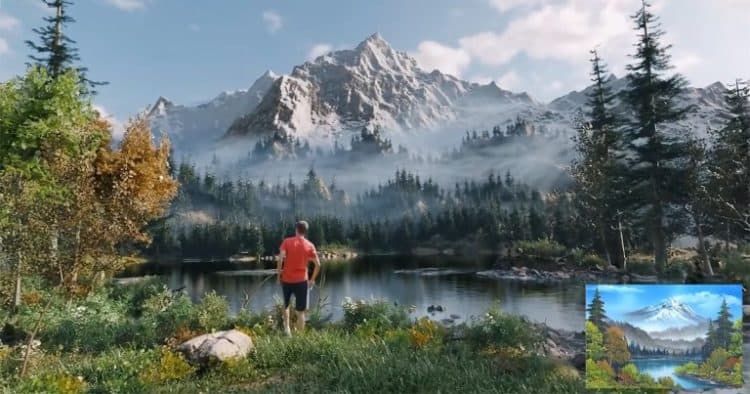 This is like watching Bob Ross 3.0 to be serious since the computer program this guy is using is impressive even if he's not doing quite the same thing as Ross, who was insanely talented when it came to applying brush to canvas. He made it look so effortless that a lot of people felt as though it would have been simple to recreate. Of course, a lot of us found out quickly that painting 'happy little trees' wasn't quite the cathartic experience that it was for Ross since it's a lot harder than it looks. But this process of creating a 3D world on the computer looks like it might be just as time-consuming as anything, but somehow just as fun for anyone that has the patience to make it work and create something that's truly unique. Whether you'll have the patience to go out into nature and take this many photos and then download them all to bring them together in a manner that can become an impressive landscape that you can be proud of is another matter entirely. Some us spend a good deal of time on the computer and others spend a good deal of time in nature, but it takes a lot of time to do both and to come up with an idea such as this that is bound to be this impressive.
Painting isn't hard when one thinks about applying a brush to the canvas, but getting it to come out the way a person wants can be extremely difficult if one doesn't know how to manipulate the brush in the ways that are needed or understand how landscapes work. The same can be said of a computer program, but there are a lot more steps to consider and a lot greater understanding that's needed when it comes to making every element come together. There are those that can make a computer model that will look every bit as good as something that Bob Ross could do when he was still on the air, but the process that goes into it appears to be a lot more involved since it has to do with getting out and finding the right angles, the right pictures, and making sure that it can all work with the program that one is using to create the landscape. For those that are into this type of thing, it's no doubt kind of relaxing and a lot of fun, and it does take some skill since knowing what to look for and how to make the entire piece come together is what helps to create the finished product.
Bob Ross was one of the special folks that come along every so often and might be entirely underrated but is somehow still easy to consider as one of the most talented people around since watching him on TV was great when you needed something to calm you down or induce a nap, but it was also fun since he was into what he was doing and was very, very good at what he did. It's not hard to imagine why his paintings would sell for so much and why he's been so revered throughout the years, the guy is simply one of the best personalities that have been seen on TV in a long time. This is when reality TV was actually real, and the individual that we were watching was just being himself and not bothering to play up to the camera for anyone other than those that wanted to watch. In other words, this type of reality TV didn't need a script since it was realism at its finest. Likely as not, there would be plenty of people that would want to argue about this, but watching Bob Ross paint a landscape was definitely more enjoyable than watching Snooki make a fool of herself for the umpteenth time.
This idea to make a 3D landscape is nice really since it does look quite professional once it's all said and done, but one has to wonder what the cost of all the hardware is and how long it would take to set it up. The setup would probably be fairly easy, but affording all the necessary equipment might cost a pretty penny. That being said no one ever claimed that art was a cheap way to relax since it can cost hundreds to thousands in materials depending on how far one wants to go with the practice, especially when it comes to creating what amounts to a masterpiece that takes a fraction of the time it might take anyone else when all the needed programs are loaded and all the pictures are readily available. It's definitely impressive and it's obviously something that people like to do, but it's not quite the same as watching Bob Ross.