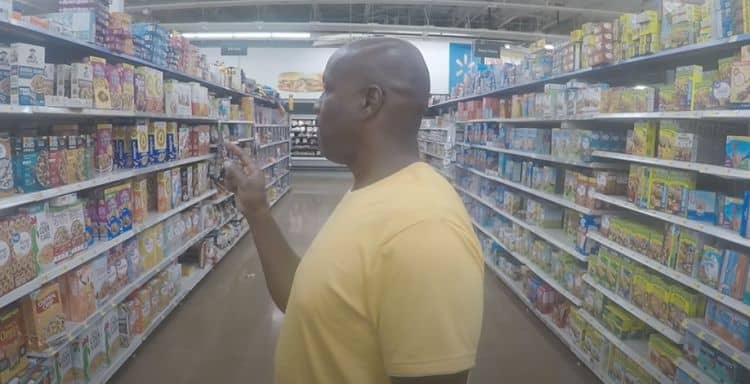 The initial idea that this man has been in prison for close to three decades is bound to trip some people up and send them down the path to find why he was in and then speak on the injustice of it in as loud of a voice as some folks can find. But getting past that for the moment, the fact that he's never been in a Walmart before when the stores have been around for well over 50, going on 60 years, is hard to believe. Watching his reactions though proves to be interesting since it should remind a lot of people of how much they take for granted and how commonplace variety appears to be in the modern era. The look of wonder on this man's face is enough to make it clear that he had few if any expectations of what he would see walking into the store. The idea of wearing a mask, of what the place looked like, and of what he would witness make it clear that he's definitely in awe as he starts walking around.
Let's put this out there, calling the placement of the watermelon 'racist', even as a joke, was kind of in poor taste even in jest since like it or not, most stores know a lot more about product placement than the average consumer and will gladly put big items such as watermelons up front and center during various seasons when they sell best, to everyone. Getting past that, watching this man hit the cereal aisle was kind of amusing since if a person actually stands back and looks for a moment instead of grabbing what they want and gliding by, there is A LOT of cereal out there. The sad part is that quite a bit of it is the same thing with a slightly different flavor or appearance, which makes it confusing and in truth, makes a person buy a particular brand out of familiarity or because they like the packaging. Yes, you're paying for a colorful, shiny box that has roughly the same contents as several of the colorful, shiny boxes in that same aisle. The people that bank on this aren't dumb, they know how to get paid.
But that does make it amusing to watch this man attempt to pick out a single box of cereal, but as one might have hoped he does select a few. It's like this wherever he goes in the store, his eyes widen every time he notices the many choices that are on display since, like it or not, in prison one doesn't get this kind of selection. When a person is locked up they get what's given to them, and while some people might say this is inhumane, there are others that will state that breaking the law needs to come with consequences. But it would have been interesting to see how he reacted to the snacks aisle, as his eyes must have been bugging out considering how much is to be found there. When a person has been incarcerated for so long it's very likely that the outside world is going to be strange and, in some cases, wonderful to the point of overload.
A lot of us take this for granted since we see it so often, from the product placement to the fancy, colorful displays that are meant to gain our attention and get us to buy more and more of a product that we need, or we simply want. Excess is best for those that are doing the selling considering that it puts more money into their pockets, and in the best cases it motivates those individuals to put more money into their product, or at least into selling it, thereby helping to stimulate the economy so things can keep running. There are a lot of steps I'm missing out on that score but I'm a writer, not an economist or even a store owner. But watching the expressions alight on this man's face was kind of amusing simply because he's seeing all of this for the first time apparently and realizing that there are quite a few choices he can make.
After so long in prison, where there are still choices to be made, but not in the same manner, it's likely that it took him a little bit of time to make his decisions, but with an armload of cereal and a whole store to explore, it's easy to think that he found the swing of things pretty quick. The 'kid in a candy shop' feeling is a great one if anyone's experienced it lately and while it's true that one can't buy up everything unless they've got the money for it, sometimes the experience is enough. It reminds us that we take way too much for granted.