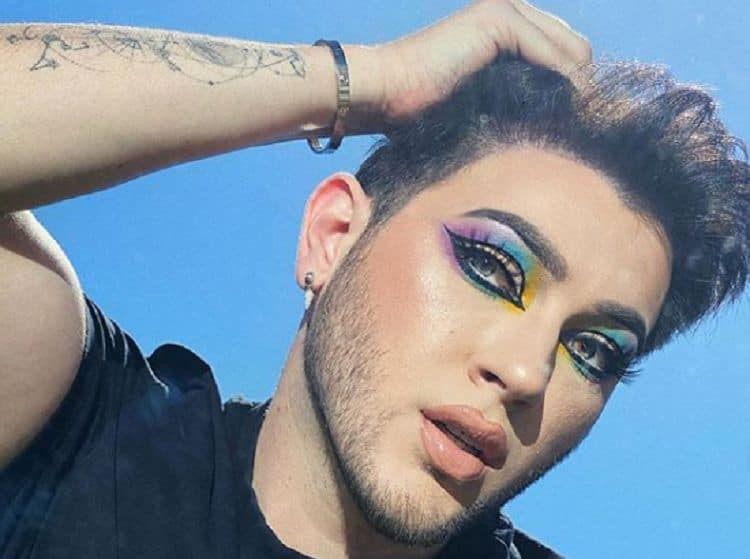 Manny MUA is the professional name of Manuel Gutierrez. For those who are unfamiliar, he is a YouTuber who specializes in make-up as well as other beauty topics. Such YouTubers are not particularly uncommon, but Gutierrez nonetheless manages to stand out because he can be considered something of a pioneer for men in this particular field. Here are 10 things that you may or may not have known about Manny MUA:
1. He Is an Aries
Since Gutierrez was born on April 4, 1991, he is considered to be an Aries. Said sign is considered to be one of the three fire signs, which are supposed to share the characteristics of being confident, passionate, and well-motivated. However, Aries stands out in that it is supposed to have an uncomplicated temperament that encourages them to tackle issues in a head-on manner.
2. Raised in a Mormon Household
Gutierrez is Latino. Furthermore, he is a Latino who was raised in a strict Mormon household. Some people might think that this sounds strange, but it is interesting to note that Latinos are making up a bigger and bigger percentage of the Mormon church. In fact, Latinos are the single fastest-growing group in said faith, meaning that they promise to become very influential in it in the not so far-off future.
3. Got Sent to Conversion Therapy
Unfortunately, Gutierrez's upbringing in a strict Mormon household resulted in him being sent to conversion therapy when his parents learned that he was gay. For those who are unfamiliar, conversion therapy is a pseudoscientific practice meant to change someone's sexual orientation from being either bisexual or homosexual to being heterosexual. It is not effective. Furthermore, it ranges from being harmful to being very harmful. Fortunately, Gutierrez's parents removed him from conversion therapy when they realized that he was getting depressed because they wanted him to be happy.
4. Got Interested in Makeup At a Young Age
Gutierrez developed his interest in makeup by watching his mother put on her makeup when he was still a very young child. The whole process fascinated him, though he didn't actually start learning how to put on makeup until some time later. Even now, Gutierrez remains very close to his mother, who he considers to be his personal beauty icon.
5. Left Medical School For Makeup
As a child, Gutierrez was a very good student. Due to this, he went on to go to medical school for the purpose of becoming a plastic surgeon. However, Gutierrez decided to drop out of medical school for the purpose of pursuing his real passion of makeup. Something that caused a fair amount of friction with his family at the time for very understandable reasons.
6. Terrified of Bugs
It is interesting to note Gutierrez has a fear of insects. Generally speaking, most people who are afraid of insects are afraid of certain species of insects over others. For instance, while spiders are arachnids rather than insects, arachnophobia is one of the most common manifestation of said fear. However, other common candidates include but are not limited to bees, cockroaches, and flies. Having said that, there are plenty of people who are afraid of all insects rather than just some insects, with Gutierrez being one of them. As for why people become so afraid of insects, the exact reason can see enormous variation. Sometimes, it is because people are afraid of being bitten, which makes sense because there are a lot of insect species out there with very painful or otherwise unpleasant bites. Other times, people are much more concerned with either contamination or infestation, which may or may not be particularly realistic but are nonetheless things that can happen.
7. Has Said that Having Makeup On Makes Him Feel More Empowered
On one occasion, Gutierrez has stated that he feels more empowered when he is wearing makeup. He is far from being alone in this. After all, people use makeup to make themselves look better, which in turn, provides them with a notable boost to their sense of self-confidence. On top of that, putting on makeup can be a way for interested individuals to express themselves in addition to being a way for interested individuals to pamper themselves. Of course, the issue is a complicated one, meaning that there are also plenty of people who see makeup in a very different light because of their very different experiences.
8. Gets Regular Hate Mail
Perhaps unsurprisingly, Gutierrez gets a regular stream of hate mail, which are often aimed at either his sexuality or how he chooses to live his life. That kind of thing is an unfortunate fact of life in the digital age. Apparently, a lot of people are all too willing to break the social norms that they otherwise live by when they either cannot be held accountable or believe that they cannot be held accountable.
9. Is Interested in Acting
Gutierrez has stated that being a beauty YouTuber isn't the end of his personal ambitions. For those who are curious, he has expressed an interest in getting into acting at some point in the future. However, it is unclear how serious Gutierrez is about his acting ambition. Something that time is bound to reveal.
10. First Male Brand Ambassador For Maybelline
It should be mentioned that Gutierrez has the distinction of being the first man to serve as a brand ambassador for Maybelline. In this, he teamed up with another YouTuber Shayla Mitchell for Colossal Big Shot Mascara. Having said that, while it was definitely a landmark moment, Gutierrez's selection for said role isn't the first time that something like this has happened. Instead, he is the second because the first man to have been chosen as a spokesperson for a beauty brand was James Charles for CoverGirl in October of 2016. On the whole, these two incidents are interesting indications of not just how beauty brands are aiming at their intended audience in the modern age but also how they are making use of new communication methods in order to do so.