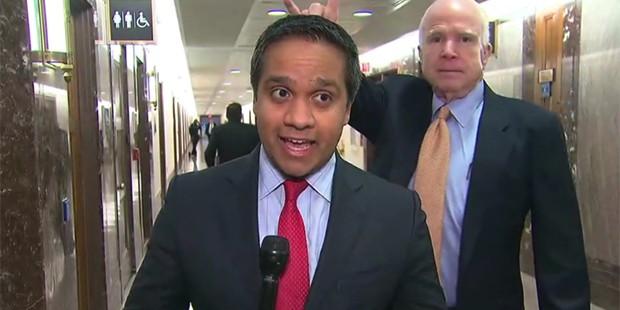 Award winning journalist, Manu Raju, has been working in the industry for nearly 20 years. Despite being considerably younger than many of his colleagues, Manu has proven that he's one of the best in the business. Throughout his career, he's gotten to cover some of the most important stories to happen in recent years. Now, a senior correspondent for CNN, Manu has become a daily presence in many people's lives. He is a source for political coverage as well as a fixture on Capitol Hill. Although working in the news industry comes with lots of ups and downs, Manu has managed to ride all of the waves that come along with his career path. Continue reading for 10 things you didn't know about Manu Raju.
1. He's A Father To Twins
Manu isn't just a well-known journalist, he's also a family man. He is married to Archana Mehta who owns her own marketing and communications firm in Washington D.C. The couple has two children together: a set of twins. When Manu isn't busy with work, he enjoys spending his free time with his family. However, he also likes to keep the details of his personal life out of the spotlight.
2. He's Available For Speaking Engagements
His work on CNN is definitely his bread and butter, but Manu also takes advantage of other opportunities. He is an avid public speaker who is available for a wide variety of events. He primarily visits college/universities and corporations. Some of the topics he typically covers include politics and media and journalism.
3. He's Been Involved In His Fair Share Of Controversy
Manu has accomplished a lot of things over the course of his career, but unfortunately, his years in the industry haven't been without controversy. In 2017, he received lots of backlash after he reported that Donald Trump Jr. had access to Wikileaks documents before they were made available to the public. CNN retracted the report, but that Manu still received lots of criticism for his lack of fact checking.
4. He Was A Huge Michael Jordan Fan
Manu was born and raised in the Chicago area and has remained a fan of all of the local sports teams. As someone who grew up during the 90s when the Bulls were one of the best teams in the NBA, he couldn't help but be a  big Michael Jordan fan. Unfortunately though, the Chicago Bulls haven't won a championship since 1998. Still, Manu remains loyal to his teams.
5. He Loves Beer
After a long day at work, most people would agree that there's nothing better than kicking back and relaxing with a glass of beer. Manu is definitely one of those people. He loves to enjoy a good brew and frequently visits local breweries. He's also a wine lover. Cabernet is one of his favorite wines.
6. His Grandfather Was A Well-Known Poet
Manu isn't the first person in his family to become a well-known public figure. His grandfather, Gopalakrishna Adiga, was a well-known Hindu poet who is considered one of the most prominent figures in modern poetry. He passed away in India in 1992 when Manu was just 12-years-old.
7. He Has A Large Following On Twitter
Like many other news correspondents, Manu Raju is very active on Twitter. He frequently tweets commentary about current events and shares other political tweets. He has been on the platform since the spring of 2009. In that time, he's managed to rack up over 421,000 followers.
8. His Brother Is A Filmmaker
Achieving high levels of success is clearly something that runs in the Raju family. Manu's brother, Sharat, is a well-known writer and director who has been working in the entertainment industry for nearly 20 years. He has directed some very popular TV shows including How to Get Away with Murder and Law and Order: SVU.
9. He Loves Spending Time Outdoors
Working in the news industry can mean having to deal with a fairly unconventional schedule. However, when Manu does get time away from work, he loves to spend it outdoors in the fresh air. After all, nothing can be better than getting outside on a beautiful day. He enjoys activities like hiking and exploring local trails with his family.
10. He Has A Bachelor's Degree In Business
Despite his current career, working in journalism wasn't the focus of his education. He attended college at the University of Wisconsin where he studied business administration and earned a bachelor's degree. While in college, he worked on the school's newspaper. He landed his first journalism job at a local news station immediately after graduating.