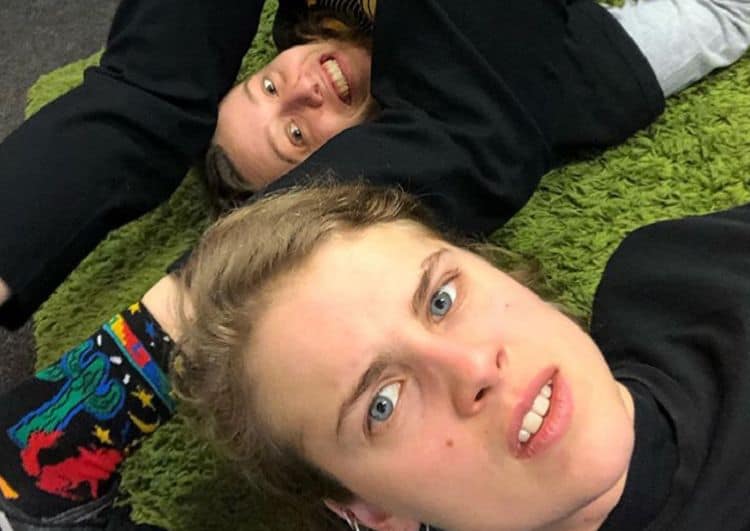 Unless you're that up on the music scene there's a good chance that you don't really know who Marika Hackman is, but maybe you should since she's been a big name on the scene for a little while and seems to be making an impact. If there's one thing that anyone should know about the music industry by now, kind of as a bit of common knowledge you might say, it's that things tend to change quickly and without much warning. If you're not watching then you might be left behind wondering what happened to the good old days. Hackman definitely has her own style but she's also the type that will at least admit that people need something to listen and relate to when it comes to music, and those that follow her might be those that feel the same since her type of music is definitely geared toward a niche that a good number of people enjoy but isn't talked about nearly as much as others.
Here are a few things about Marika you might not have known.
10. She didn't get to watch much TV as a child.
Marika was encouraged to do other things with her time, as many of us might still remember is possible since staying inside and watching TV all day isn't really the kind of life that a lot of us can relate to as a child. It does a body a lot better to get out and actually experience life in a number of ways.
9. She's a self-taught guitarist.
There's definitely a lot more to this than it sounds like since a person who is musically inclined might have an easier time of this than others, but at the same time trying to learn by ear and practice alone seems like a long, drawn-out process that could take a lot of time and dedication that some people might not have. It's all dependent on how much time a person puts into it and how dedicated they are to learning.
8. She had plans to go to college but decided on music instead.
There are times when it seems like a tragedy that a person doesn't head on to college, but then there are times when it's kind of hard to imagine why they would need to take so many different courses that have nothing to do with the type of career they want. It's important to have an education as something to fall back on when you need it, but in terms of your career it's almost better to focus on the essentials, not the added material that some institutions want you to take.
7. It would seem that her social media status is still building.
It's not exactly a flood of followers that shows up on her site at this point, but it's definitely building as more and more people start to find out about her and become interested. Eventually it does seem as though her numbers might make a huge jump.
6. She definitely enjoys using imagery.
This is something you can see on her Instagram as the imagery that's used in some pictures is kind of dd at times but still seems to mirror her personality and the look she's going for when it comes to her music and her persona.
5. She's in her 20s at this time.
Honestly it doesn't sound like she's a newbie but it does sound as though she has a long ways to go yet in terms of experience and exposure. So far it would seem as though she's quite sure of what she wants to do and the career she wants to have. Hopefully she can reach her goals moving forward.
4. Her net worth is currently under review it seems.
She either hasn't amassed enough or hasn't been in the system long enough to really give a solid number as to what she's earned. That could change quickly since it's kind of obvious that she's gaining in popularity now that she's trending. Those numbers tend to rise as people start taking notice.
3. There's not a whole lot about her on the internet at this point.
Again, this could change quite rapidly as more and more people are being turned on to who she is and what she's all about. Her brand of music is still something that people thoroughly enjoy and it's safe to say that they might start paying more attention the bigger she gets.
2. She used to play in a group with Cara Delevigne.
It might not have been much of a group but she did play with Cara for a little while in a manner that seemed to be more of a hobby for the two of them.
1. Marika is a very opinionated and strong-willed person.
She's definitely the type that will say what she has to say and won't bother worrying over the responses of those that might take the time to criticize her.
It'll be interesting to see what becomes of her.