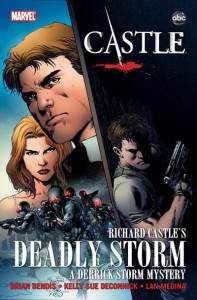 The third season of ABC's hit show Castle might be coming to an end tonight at 10pm, but fans don't need to be bummed about no news during the summer. TV Guide has just revealed that Marvel Entertainment and ABC Studios are teaming up to create a hardcover novel inspired by Castle. The graphic novel, entitled Richard Castle's Deadly Storm, will be the first effort in a partnership between Marvel and ABC, both owned by Disney.
Richard Castle's Deadly Storm will feature Castle's famous character Derrick Storm, which was Nikki Heat's predecessor. The premise behind the hit show is that Richard Castle had a wildly successful series of books featuring Derrick Storm, but after becoming bored with the character, he killed him off, upsetting many fans.
That was how the show began as Castle was in the middle of a major writer's block and found inspiration in Detective Kate Beckett to create the character of Detective Nikki Heat, launching a new series of books. The third novel of the Nikki Heat series, Heat Rises, is already available for pre-order and will be released in September.
"We are incredibly excited to be partnering with Marvel to bring Richard Castle's early literary works to life," Castle creator Andrew W. Marlowe said. "It's a great way to expand the Castle universe for all our fans."
The graphic novel, which will be 112 pages long, will be written by Brian Michael Bendis (Avengers, Ultimate Comics Spider-Man) and Kelly Sue DeConnick (Captain America and The Secret Avengers). Lan Medina (Fables) will handle the interior art and Carlo Pagulayan (Planet Hulk) created the cover art, which will make a cameo in tonight's Season 3 finale of Castle.