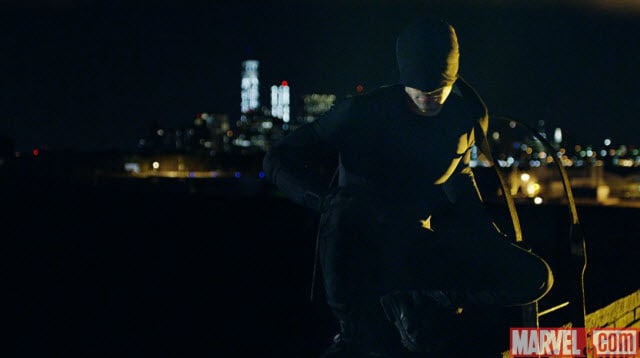 NYCC is usually relatively scarce on big news, especially when compared to its older brother, SDCC, but the convention did manage to give us our first look at Netflix's Daredevil, and it's star Charlie Cox both in and out of costume. Marvel has released this pair of press images showing an early Daredevil costume, and then one of just Cox as Matt Murdock himself, complete with cool skinny tie.
Naturally, it's the ninja-esque Daredevil costume people are buzzing about, and they're all wondering why exactly he looks like a blind monk/assassins, rather than having his famous crimson suit with horns.
While The Flash was lucky enough to get his actual costume in episode one of his new show, that's rarely the case when it comes to superheroes both on the small screen and the big screen. From Spider-Man to Iron Man to Superman to pretty much every major hero, they start out with a regular costume based on whatever clothing and materials they seem to have lying around, then graduate to their real suit eventually. Sometimes it takes an hour in a film, or sometimes it takes ten years in the case of Smallville.
What we're seeing here seems to be Murdock's early iteration of the Daredevil costume. I have imagine that yes, we will see the more traditional costume later on, but this will be a start before he learns how to sew or whatever. And I have to say, I really like the whole "completely blind" scarf look seen here.
I loved Cox's turn on Boardwalk Empire, and I'm really looking forward to seeing what he does with Matt Murdock for Marvel/Netflix. 2015 has never felt so far away.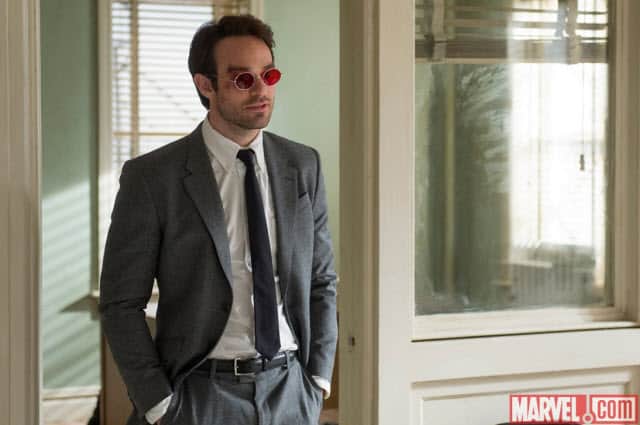 [Photos via Marvel.com]