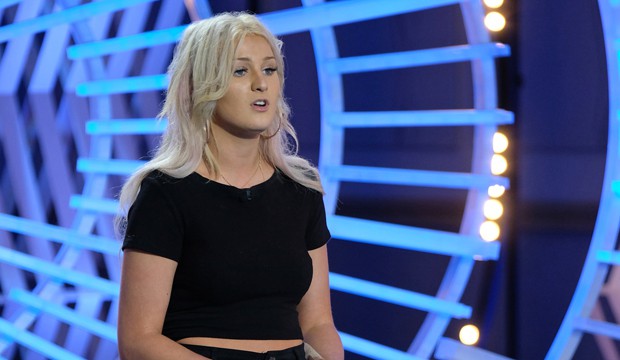 Mary Jo Young may be just 19-years-old, but she's ready to take the world by storm and she's hoping American Idol can help her do that. Although she has always loved music, she just recently started taking it seriously. When she walked into the room to audition in front of the judges, Mary Jo put her nerves to the side to perform a cover of "You Broke Me First" by Tate McRae. The judges fell in love with her voice and expressed that they think she has what it takes to win the competition. So far, it looks like a lot of fans will agree. Of course, we'll all have to keep watching to know for sure, but things are already looking good for Mary Jo. Here are 10 things you didn't know about American Idol contestant Mary Jo Young.
1. She's Very Popular On TikTok
This season of American Idol has been a little unique. Several of the people who have auditioned are actually people who have already become 'famous' on social media. Mary Jo is one of them. In 2020, she rose to prominence on TikTok and she currently has nearly 300,000 followers and over 5 million likes.
2. She's Originally From Tennessee
Ohio may be the place that Mary Jo considers home, but she was actually born in Knoxville, TN and spent some of her childhood there as well. Although Tennessee and Ohio are pretty differently culturally, they have both played big roles in who Mary Jo is as a person and as a singer.
3. She Works In Real Estate
Even though Mary Jo is very popular online, like many Gen Z influencers she likes to keep most of the details of her personal life to herself. As a result, there isn't much information floating around about her, but her Instagram bio mentions that she dropped out of college. According to Meaww, she currently worked in the real estate field.
4. She Comes From A Musical Family
Music has always been an important part of Mary Jo's life, even before she started singing herself. Before her audition she mentioned that she comes from a musical family although she didn't go into detail about the extend of her family's involvement with music.
5. She's In A Relationship
Between her social media success and being on American Idol, Mary Jo's DMs are probably full of people who want to shoot their shot. Those people should know, however, that Mary Jo is spoken for. Mary Jo is in a relationship with a man named Carmen Cavallaro. There isn't much information on Carmen but based on his Instagram profile he doesn't appear to be a musician.
6. She Loves Connecting With Fans
Mary Jo understands just how important it to build strong connections with fans and she is thankful to all the people who have shown her love and support. She loves using her social media presence as a way to interact with fans and people love hearing from her.
7. She's New To Performing
Despite the fact that Mary Jo has loved music all of her life, she isn't someone who has been performing for several years. Her TikTok content is mostly videos her singing, but she hadn't performed in front of people prior to her audition for American Idol. Her lack of experience initially made the judges hesitant but they are excited to see where the competition can take her.
8. She's Formed Friendships With Other Contestants
Being part of a competition is never about making friends, but it's one of those things that always tends to happen. Since auditioning for the show, Mary Jo has gotten close with some of the other contestants on the show. Although they are all aiming for the same goal, they're also very supportive of each other.
9. She Hasn't Released Her Own Music
One of the things that's always been cool about American Idol is the fact that people come to the show at different stages in their career. While some of have already released full projects, others, like Mary Jo, are just getting started. At this point in her career, Mary Jo has been mostly focused on singing covers. She hasn't released any music of her own and she hasn't expressed any plans to.
10. She Has A YouTube Channel
She may not have any music of her own just yet, but there are still plenty of ways to hear her. In addition to TikTok, people who love Mary Jo's voice can find longer covers of her singing on her YouTube channel. Her channel currently has 8,500 subscribers and her videos have gotten a total of more than 318,000 views.