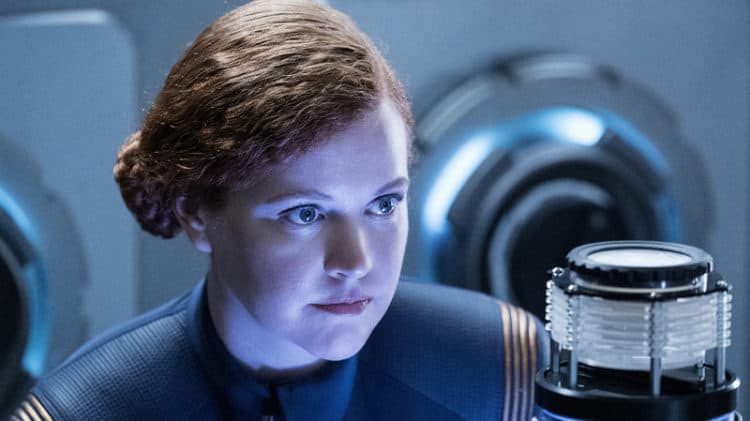 Some actors are physically and emotionally there when they're in the public eye but once they're off camera it's harder to get to know who they are. It's easy to understand how people would want their privacy, but getting to know Mary Wiseman at least a little bit more would allow fans to connect with her on a level that's not personal but at least allows them to know who she is, what she likes, and in short what kind of person she is. That still seems rather personal and kind of defeats the purpose of privacy but it would certainly allow people to see her as more than the character she's displayed as on screen. There are plenty of interviews online that can allow people to gauge her character and just how she thinks, but a lot of people tend to want hard data that they can read and access any time. Maybe later on in her career this will come about.
Here are a few things you might not have known about her.
10. Her career started in 2012.
She could be called one of the new breed that has just now started coming into her own and is proving that she belongs here but she doesn't yet have the needed experience that can help her to become fully established in the minds of the fans. Or given that she's been in some rather popular shows it could be that she's reached that point but is now seeking more recognition.
9. She's 33 years old.
Some folks would actually say that people are getting old at this point and should step up their game if they want to remain in the industry. But honestly if you really think that way then you don't know the industry that well since many actors will continue on until their elderly years, meaning a person in their 30s has plenty of time to elevate themselves.
8. She stars on Star Trek:Discovery.
She's described as the soul of the show, or her character is since she's a cadet that is thrust into the mix when the Klingons decide to go to war with the Federation. This takes place 10 years before the original series and thereby is setting the stage for the original Star Trek.
She plays more of a recurring role that's not all that crucial to the overall story most of the time but it's another way to get exposure and another credit that she can tack onto her resume so it's worth the effort and it gets her noticed as well.
6. She's been a stage actor.
She seems to have had a fair amount of success as a stage actress even though it seems to have gone by the wayside, kind of, when she got on screen. No doubt it's something she could pick up again if she really wants to. There's nothing to say that she doesn't look for stage roles now and again anyway since it's still great experience.
5. She has a decent following on social media.
It's less than 20 thousand but it's still enough to make people realize that she's popular enough and has done her job when it comes to getting noticed. This likely shouldn't be the measure of how skilled a person is when it comes to acting but it's something that gets them noticed by more and more people. Word of mouth is still pretty strong.
4. Her net worth is around $400,000.
That seems pretty good considering that she's only been in the business for six years. Her career hasn't really blown up yet but there's always a chance that she'll manage to nab a role that will send her rocketing to the top if she's lucky enough.
3. It's not known if she's married or single.
This is something that should be under her control to release or not but the fact remains that paparazzi are pretty ruthless sometimes and will get the scoop they want even if they have to camp out in various spots here and there.
2. There's not a lot of data on her.
It could be that she's waiting for her career to get bigger and her reputation more evolved or it could be that she just doesn't want to share as much in order to keep her private life just that, private. Not everyone needs to know what's going on in the lives of the stars after all, especially if they don't want them to.
1. She's been in Baskets.
In case you haven't watched the show Baskets is about the pursuit of one man to become a clown and the struggles he goes through to reach his dream. It's the kind of show you can imagine Zach Galifinakis embracing with every fiber of his being after the many movies he's done.
Keep an eye out for Mary, it could be that she'll be moving up soon.