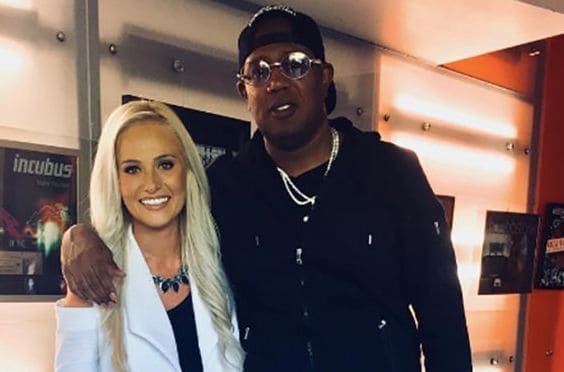 There is no arguing with the fact that Master P has had a major influence on Black culture in multitudinous ways. At one point, Master P, whose real name is Percy Miller, ran the #1 rap music label in the world — No Limit Records. He built quite a financial empire along the way, and his current net worth is estimated at over $300 million. With this type of exposure and bent toward remaining true to himself, it is clear why so many Blacks find it easy to relate to him. Out of all of the Black music moguls, he is likely the most approachable.
So, it is not difficult to understand why Black media became a little salty at the idea of "P" sitting down to have a conversation with Tomi Lahren, a television show host who can only be classified as hyper-conservative. To bring great lucidity to the dilemma here, you must first understand that in conventional and cultural Black circles, the term conservative is synonymous with racists. It is immensely difficult for the average Black person to separate political ideology and social views. I will not get to my position that conservativism and liberalism are simply the polar extremes along the same structure.
So, when the news broke that Master P from the NOLA was sitting down with what many Blacks consider to be the face of White conservativism, they Blacks were not happy.
Fortunately, Master P has earned a great deal of credibility in the Black community because he remains involved, and as I said earlier, he is extremely approachable. So, when "P" decided to offer an explanation for his sitting down with Tomi, he got more of an ear from Black Twitter and other Black media platforms than most would. Keep in mind that Tomi Lahren is darn-near public enemy #1 in the Black community. She went after Jay-Z and Beyonce — not to mention Colin Kaepernick.
Master P suggested that his sitting down with Lahren was a time to create a more peaceful environment on a national level. At a time in which racial and political tension is at an all-time high, he felt that he could somehow close the gap in ideologies by helping Lahren see the other side of the coin.
One thing that I can say about P is that he is pretty good at reading people, so maybe he saw something in Tomi Lahren that most African Americans don't see. Maybe he believed she was misinformed and he hoped to shed light some of the topics they discussed.
What "P" was able to do was prove that Blacks who have a voice and platform are willing to sit down and discuss the issues — to have meaningful dialogue. Moreover, he proved that Blacks are capable of having meaningful dialogue on a plethora topics. Again, because of the credibility that "P" has earned in the Black community, I personally give him a pass. More than that, I believe that the conversation had significance. It may have been the first time that Tomi actually listened to someone with an opposing view because her interview with Charlamane the God went absolutely nowhere.