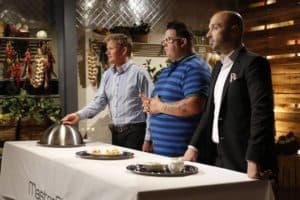 It's down to the final four tonight on Masterchef and the remaining home cooks seem determined and ready
to fight to the finish. After the elimination of Monti last week, we are left with four seemingly competent cooks, all of whom deserve to possibly take home the final prize and title of Masterchef.
On tonight's episode, the four remaining Masterchef hopefuls face their most intimidating challenge to date in which they are tasked to pair up and prepare a three course meal for not only the judges, but also three of the world's top chefs whose Michelin star count would make most professional chefs' heads spin. The contestants partner off with Christine and Becky taking on Frank and Josh, who are blatantly working through a bit of animosity left over from Frank's choice to throw Josh under the bus at the last pressure test.
After being judged by the very intimidating yet experienced panel, the losing team is sent to the Masterchef kitchen to get to work on the pressure test. With only a two person team, it makes the elimination challenge all that more personal with a head to head battle to stay in the competition. The challenge? To create three different (and perfect) soufflés in sixty minutes. The judges, although seemingly amused and a bit smug, openly admit that it might be an impossible task for these two contestants.
In the end, one home cook will come out on top and make it to the final three where becoming the next Masterchef is not just a dream, but a closely approaching reality. Who will be left standing in the final three next week? Watch Masterchef at 8/7c on Fox to find out.