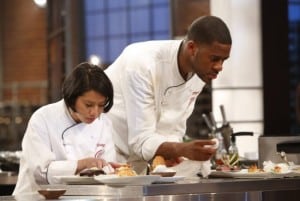 Tonight on Masterchef, the season three winner will be revealed, earning him or her a cookbook deal, a $250,000 prize, and the title of Masterchef.
Last week saw the departure of Becky, the determined and sometimes overzealous food photographer from Kansas.  After putting forth a good effort to cook presentable frog legs for the elimination challenge which she had never even eaten, Becky was sent home, leaving Josh and Christine as the last two standing, a fact that few might have predicted a few weeks ago.
Josh fought his way back into the competition earlier in the season after being given an unprecedented opportunity to come back after his elimination. It wasn't handed to him, however, as he had to beat out other former contestants as the only home cook worthy of returning to the Masterchef competition.
Christine has been viewed as somewhat of an underdog all season long, especially by herself, mainly due to her disability. As Masterchef's first ever blind contestant, Christine has fought hard throughout the competition to earn the respect of her fellow contestants as a legitimate contender for the Masterchef title.
Tonight, Josh and Christine battle it out to see who will come out on top and earn the right to be called Masterchef. Both contestants have touching and inspiring stories, which there will be no shortage of rehashing over for tonight's finale. With both finalists' families in tow and the eliminated Masterchef contestants watching from the balcony, there's more pressure than usual for Josh and Christine as they work to create their final Masterchef masterpieces.
In the last elimination challenge of the season, the two home cooks will have to prepare a three course meal that will determine whether they will be sent home empty handed or be declared the next Masterchef.
Be sure and check out the clips below for a sneak preview of tonight's Masterchef finale that airs at 9/8c on Fox.