After last week's less than surprising elimination of Tali, MasterChef seems to finally be down to home cooks who all have at least a shot of winning the competition.
During last week's MasterChef elimination challenge, Felix, who had won the mystery box challenge with an impressive uni and pea risotto, was rewarded with the opportunity to select a type of fish for each of the contestants to cook . For herself, she opted to choose a more challenging choice and went with halibut, while giving the fish considered the simplest, salmon, to her ally Christine. In an attempt to weed out the competition, she assigned Becky the rockfish and Monti the John Dory. In the end, however, the contestants with the most challenging dishes actually stood out, landing Christine, David, and Tali in the bottom three. Tali, having disappointed the judges time and time again, at least stayed consistent by serving them an arctic char over green lentils that Joe called a 'failure'just before sending him packing from the MasterChef competition.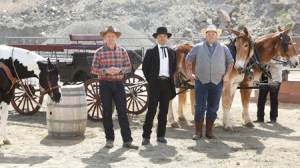 This week, the remaining eight MasterChef hopefuls head to southern California where the judges tell the contestants they will be preparing steak dinners for 101 rodeo cowboys. The losing team for this cowboy challenge will head to the pressure test, where they will have just twenty minutes to cook six eggs four ways. The contestant that fails to impress the judges with four superior egg dishes will have his or her dream of becoming the next MasterChef scrambled.
MasterChef airs tonight on Fox at 9/8c.