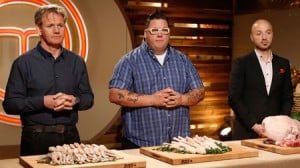 Tonight marks the first part in the season finale of Fox's Masterchef, the reality cooking show that gives passionate home cooks a chance at food fame.
Last week on Masterchef, Gordon Ramsay and company narrowed it down to the final three contestants, after eliminating Frank, the Italian stockbroker with a knack for cooking. It all went down with a bit of poetic justice, leaving Frank and Josh to battle it out with Josh coming out on top this time around. Previously, Frank had thrown Josh under the bus after stating that he would save him from the elimination challenge, but once reality sunk in, Frank opted to save himself instead.
This week on Masterchef, the final three contestants are asked to create a dish that represents who they are and their passion for food.  The winner of this competition will get a serious "leg" up in the elimination challenge by having first pick at which protein they wish to cook: chicken legs, leg of lamb, or frog legs. The pressure is certainly on to present the judges with a quality dish, as this will be the one that determines who makes it to the final two.
So, will it be Becky, the food photographer whose skill is only matched by her irritating ability to pretend to be surprised each time she wins a competition? Or will it be Josh, the first contestant to be welcomed back to Masterchef after having been eliminated? The underdog of the competition, at least in her own eyes, has been Christine, who, despite her handicap, has shined above the rest on multiple occasions. Their fate is in the hands of the judges at this point, which depending on how their dishes turn out, may or may not be a good thing.
Find out who moves on to the final two tonight on the first part of the Masterchef finale.
[FLOWPLAYER=https://www.tvovermind.com/wp-content/uploads/2012/09/MChef319-0904-C1-H264_low.png|https://www.tvovermind.com/wp-content/uploads/2012/09/MChef319-0904-C1-H264_low.flv,600,400]
[FLOWPLAYER=https://www.tvovermind.com/wp-content/uploads/2012/09/MChef319-0904-C5-H264_low.png|https://www.tvovermind.com/wp-content/uploads/2012/09/MChef319-0904-C5-H264_low.flv,600,400]