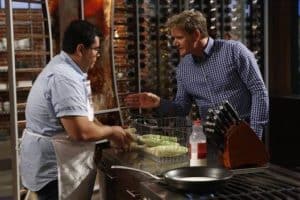 After a couple weeks off, Masterchef returns tonight to pick up where it left off with the third and final part of the episode in which the final six contestants will compete to come out on top.  Last time on Masterchef we saw the return of previously ousted contestant, Josh, back into the competition.
Looking like he never left, Josh and the rest of the Masterchef hopefuls took their places at their stations and prepared to find out their fates for the day's mystery box challenge.  Before allowing the contestants to lift their boxes, the judges informed them that the secret ingredient for the challenge was actually alive.  After much drama and anticipation regarding the ingredient, the contestants removed the tops to their boxes to display Santa Barbara spot prawns.
As usual, the judges wandered throughout the kitchen while the home cooks worked to create what they hoped was a master piece that would entice the judges to select their plates as one of the top three dishes. In the end, the top three dishes selected were Becky (who felt it necessary to do her 'I'm so flattered' face), Christine, and David. After some discussion, David's spot prawn ceviche was selected as the winner, earning him an immediate advantage for the next part of the competition.
First time winner, David, was taken into the Masterchef pantry where he was told that they would be making desserts out of non-traditional ingredients.  After being presented with the options of beets, bacon, and corn, David selected corn and was given a few suggestions for corn based desserts from the judges. In one of the biggest mistakes of all time on Masterchef, David used his time in the Masterchef pantry to collect all the ingredients necessary to make a corn rice pudding only to forget the most important component of all:  Rice.  He was then forced to roam around the kitchen begging for rice, which he finally received from Becky.
Once time was up, the contestants were called one by one to present their dishes. Again, Becky came out on top as the winner, with Frank a close second, leaving them as team captains for the next challenge. The judges then announced that three worst corn based desserts belonged to David, Josh, and Felix. In the end, Felix was tearfully eliminated from the Masterchef competition.
Tonight on Masterchef, the contestants will take over a Hollywood hotspot to see which team can best replicate the restaurant's signature dishes.  Find out which of the six remaining contestants are able to stand the heat and which will have to leave the Masterchef kitchen on tonight's episode.
Masterchef airs Tuesdays at 98c on Fox.