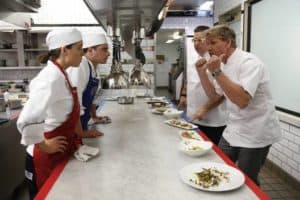 Last week on Masterchef, the final six home cooks were put to the test in a real live culinary kitchen during their team challenge in which they were responsible for completing dinner service at the well known Michelin starred Hatsfield's Restaurant in Los Angeles.
As the winners of the last challenge, Becky and Frank were assigned the role of team captains in which they would select their own teammates. Becky made what appeared to be confident choices with Monti and Christine, leaving the judges genuinely surprised. Frank took the reins, selecting David and by default, Josh, as his teammates.
Problems immediately started to arise over on Team Becky with Monti and Christine struggling to communicate. In what might be his most ignorant statement to date (although it's a close call) judge Joe stated that he feels Masterchef's first ever blind contestant Christine, is a liability and that he would "put her in the coat check room." Way to promote diversity and overcoming the odds, Joe.
Frank's team got off to a good start with appetizers, however, soon ran into problems with Josh struggling to properly make the battered bread for the croquet madame sandwiches.  Joe begrudgingly attempted to soothe impatient diners, while Graham and Frank jump in to lend a hand to Josh, which finally allows the dinner service to proceed smoothly.
Despite a rocky start, Becky's team, in the end, pulled it together to win the challenge, leaving Frank's team in the dust with completing the dinner service. This left Frank, Josh, and David to face the dreaded elimination test while the ladies of Masterchef watched from the balcony.  Frank, although initially saying he would save Josh if it were possible, leapt at the opportunity to avoid the elimination test when he was actually offered the chance. I could be wrong, but didn't Josh get eliminated last time because he got burned by his team captain in just this type of situation?  Not one to repeat his mistakes, Josh out cooks David in the perfect timing steak preparation challenge, forcing the judges to send David packing from the Masterchef kitchen, but not before being offering him a job in one of Graham's restaurants back in Chicago. Congrats to David and all, but does anyone else think it's a bit suspicious that Graham chose the chubby, thick rimmed glasses wearing contestant to work in his restaurant? I'm just saying…Graham might be looking to pull the old switcheroo and score some time off, of course, he'll need to work on David's steak cooking times first.
Tonight on Masterchef, the remaining five home cooks are tasked with selecting the mystery box items that best represent them for the challenge.  Gordon Ramsay, as per usual, throws a last minute wrench into their best laid plans, however, when he tells the Masterchef hopefuls that they will be trading boxes amongst themselves, leaving Monti to exclaim, "What the hell is fish sauce and why does it taste like death?" Sounds like it should be good for a laugh, if nothing else.
Masterchef airs Tuesdays at 9/8c on Fox.